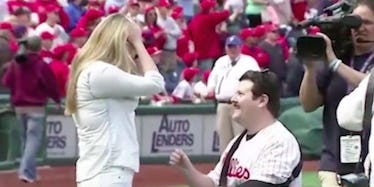 Cop Injured In Shooting Surprises GF At Phillies Game With Adorable Proposal
Daily Mail
When police officer Jesse Hartnett was shot point-blank while sitting in his marked cruiser in an ISIS-inspired ambush, the odds he'd get to see his girlfriend, Lily Abdullina, again were stacked against him.
The 33-year-old miraculously survived the January 7 attempt on his life and, on Monday, while still recovering from multiple bullet wounds, Hartnett threw the first pitch at the Philadelphia Phillies home opener against the San Diego Padres before getting down on one knee and proposing to Adbullina.
She said "yes," and the crowd erupted in applause, Daily Mail reports.
Hartnett told 6abc Action News,
It was kind of thrilling. It's a once in a lifetime experience to go out there and I wanted to utilize that time as best that I could; it was wonderful.
From a terrifying brush with death to a happily-ever-after proposal witnessed by thousands of supporters, Jesse Hartnett's future will prove to be a stark improvement from his recent past.
Citations: Suspected Philadelphia gunman Edward Archer used stolen police gun in attempted 'assassination' of Officer Jesse Hartnett, claimed allegiance to ISIS: cops (New York Daily News), It's a home run! Hero cop shot three times by ISIS gunman throws first pitch at the Phillies' home opener before proposing to his girlfriend (Daily Mail), OFFICER HARTNETT THROWS OUT FIRST PHILLIES PITCH THEN PROPOSES (6abc Action News)