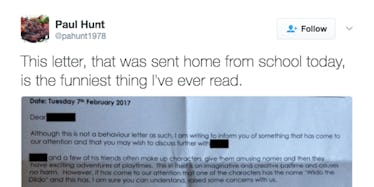 Dad Gets Hilarious School Letter About Son's Imaginary Friend Who Has NSFW Name
Twitter
Kids accidentally coming up with hilarious names for stuff is one of the most underrated things in the world.
It's mostly because you have to try to keep a straight face when they tell you they've come up with a super NSFW name for something.
And one 10-year-old kid from the UK made up the best name ever for his imaginary friend.
Wildo the Dildo.
It's extraordinary. It's perfect. I can't get enough.
Wildo the Dildo was introduced to the world by Paul Hunt, from Somerset, England, who tweeted a picture of a letter sent home from his son's school.
Teachers were, hilariously, extremely concerned about where Wildo came from, but Paul was absolutely loving it.
Here's the letter,
Dear (blank) Although this is not a behavior letter as such, I am writing to inform you of something that has come to our attention and that you may wish to discuss further with (blank). (Blank) and a few of his friends often make up characters, give them amusing names and then they have exciting adventures at playtimes. This in itself is an imaginative and creative pastime and causes no harm. However, it has come to our attention that one of the characters has the name "Wildo the Dildo" and this has, I am sure you can understand, raised some concerns with us. On further discussion, none of the children said they knew what it meant, but were aware that it was an inappropriate word to be using. One of the children said they picked up the word on the playground, so we will be following this up further and dealing with accordingly. I hope you can appreciate the reason I am informing you of this matter and please do not hesitate to contact me if you wish to discuss it further.
The letter is a work of art.
And people on Twitter just couldn't handle it.
Somewhere, someone is having an awkward chat with their kid about dildos, and if that doesn't make you smile, I don't know what will.
Citations: Dad receives hilariously unexpected letter from son's school (Mashable)