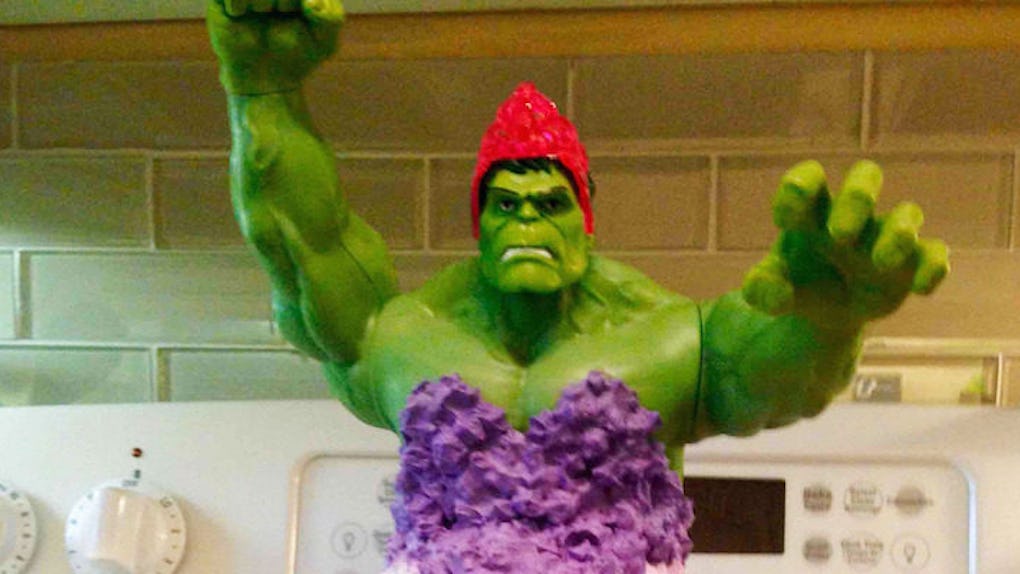 Imgur
Mom Makes Twin Girls Incredible 'Hulk Princess Cake' For Their Birthday
HULK SMASHES THE PRECONCEIVED NOTIONS OF GENDER ROLES FOR MODERN ACTION-HERO ARCHETYPES.
Whether we admit it or not, we all have little princesses inside of us waiting to escape.
We all want to be pampered by huge wait staffs, spend hours singing to birds and miscellaneous woodland creatures, dress in fancy satin clothing and spend every single day getting ready for large balls.
We all want this singular thing, and genetically-enhanced humans who were subjected to near-lethal doses of gamma radiation are no different.
In a way, Bruce Banner's biggest demon is he can't let himself get too down about not being a princess without Hulking out and destroying an entire city.
Brian Elton's 4-year-old twin girls loudly voiced their desire for the Hulk to live out his biggest dream for their birthday in the form of a "Hulk Princess Cake."
Boy, did Brian's wife deliver.
Someone get Brian and his wife a parents-of-the-year award and a large case of vibranium.
Citations: Hulk Princess birthday cake wins twins hearts (Mashable)