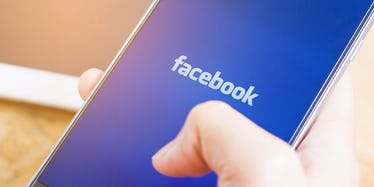 Facebook's New "Watch" Feature Will Change The Way You Discover TV Shows
Shutterstock/ I AM NIKOM
Finding your favorite Facebook shows is about to get 10 times easier. On Thursday, Aug. 9, the social media platform announced its new feature, called "Watch," which lets users seamlessly discover a personalized list of videos and create a "Watchlist" for even easier access. In a Facebook Newsroom blog post, Facebook's director of product, Daniel Danker, detailed how to use Facebook's "Watch" feature. Here, let's go over the highlights.
Why "Watch"?
According to Danker, "We've learned that people like the serendipity of discovering videos in News Feed, but they also want a dedicated place they can go to watch videos." It's why the "Videos" tab exists, and now "Watch" is taking that tab a step further — probably because of what a huge player video is in today's social media landscape.
How to Use It
Use the "Discover" tab to find new shows (e.g. a professional sports broadcast) based on what your friends and FB communities are watching. To clarify how the algorithm works, Danker provides this example in his post:
You'll find sections like 'Most Talked About,' which highlights shows that spark conversation, 'What's Making People Laugh,' which includes shows where many people have used the 'Haha' reaction, and 'What Friends Are Watching,' which helps you connect with friends about shows they too are following.
You'll be able to comment on the videos in real time (just like Facebook Live) and join dedicated Facebook Groups for the shows. "We think Watch will be home to a wide range of shows, from reality to comedy to live sports," Danker said.
To build steam around the new feature and "inspire creators," Facebook is even funding some shows.
There's no word on an exact launch date. However, at the end of his post, Danker revealed that a limited group will receive access before they "bring it to more people soon."
For now, we'll just have to stick to the trusty "Videos" tab.