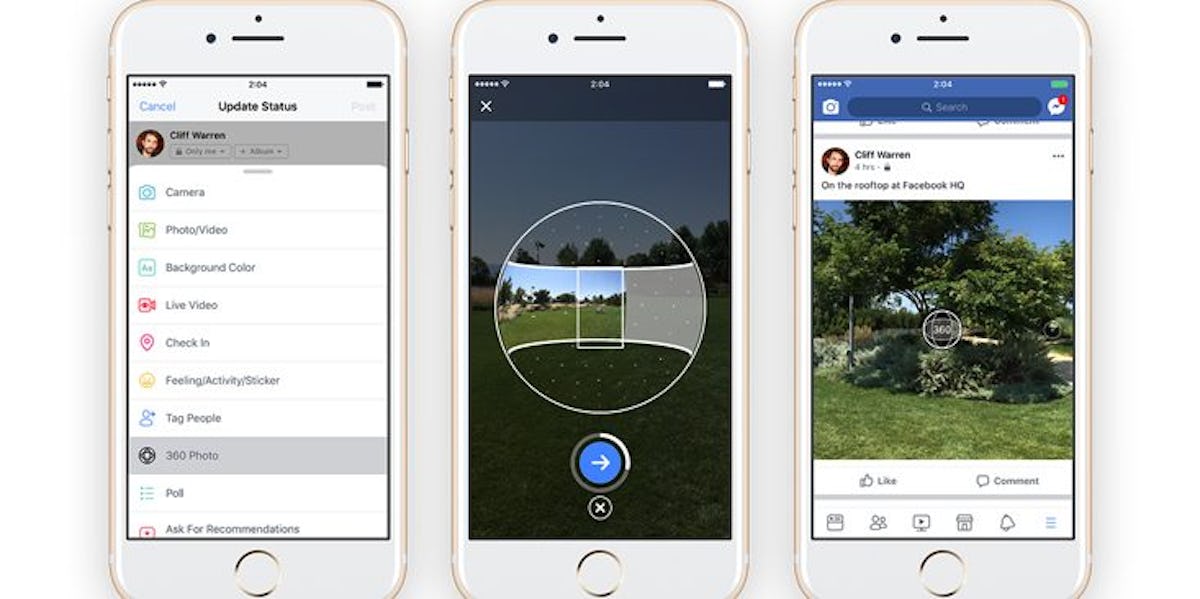 Facebook Lets You Take 360-Degree Cover Photos Now, So Start Snapping Scenic Pics
Facebook
Capturing and sharing our surroundings has never been easier, wouldn't you say? We have smartphones with a built-in cameras. We have social media apps to show off our favorite pics. And now, Facebook is trying to be everyone's favorite platform with a cool new feature that lets you take 360-degree cover photos directly in the app, giving your followers a super scenic view. The tech company has an entire website dedicated to the feature, called Facebook360, where they show interested users just how to take 360-degree cover photos on Facebook.
How It Works
Taking a 360 photo within the app seems pretty easy, TBH -- so don't be afraid to spin around and test it out. (You don't need a special 360 camera to use the feature.)
Here are the instructions Facebook provides on their website:
To take a 360 Photo using your Facebook app, simply look for the '360 Photo' icon within the drop-down menu within the 'What's on your mind' box, press the blue button and follow the path until a complete panorama has been captured. Your panorama will stitch together within seconds and then you can share the photo to your Timeline. Every photo taken with the Facebook app will be saved to your Camera Roll. If you took the photo using the Facebook app, your iPhone, one of our supported photo sphere or panorama apps for Android, or a 360 camera, then the process will be the same as uploading a regular photo.
Why You Should Use It
Think about all the times you had to leave something out of a shot because it wouldn't fit inside the frame. With a 360-degree photo, all that frustration is gone, because you can literally show your friends everything. They can tap and drag their finger to explore every angle.
If you don't use the app to capture your 360 moment, Facebook has Photoshop templates you can use to convert your photos for the same awesome experience.
Update Your App
To start snapping right now, update your app. The feature was rolled out on Wednesday, Aug. 23, so it's ready for you in the App Store.
This is going to be so fun — I can already tell.