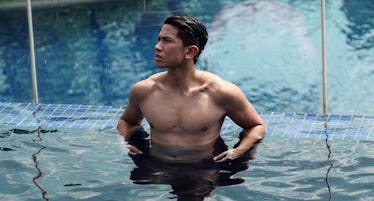 This Country's Hot Prince Will Make You Forget All About Those English Guys
Instagram
The days of fantasizing about Prince Harry are long gone now that he has a girlfriend.
Sure, we can still dream, but damn, it's hard not to ship him and Meghan Markle together. Those would be some ridiculously good-looking babies.
Sigh. Who will we unrealistically pine over now?
Meet Abdul Mateen, the prince of Brunei.
He's 25, he's single and his jawline slays like no other.
When he's not doing prince stuff, he likes to play polo.
He graduated from the Royal Military Academy Sandhurst in 2011 as a Second Lieutenant, according to Mashable.
He also earned a Master's Degree in Arts from the University of London's School of Oriental and African Studies.
Prince Mateen is the fourth son of Brunei's ruler, Sultan Hassanal Bolkiah, who has seven daughters and five sons, as well as an estimated fortune of $20 billion.
Mateen is the prince of Brunei, which is a tiny nation on the island of Borneo, in two distinct sections surrounded by Malaysia and the South China Sea.
When he was first introduced by GQ to the people of Thailand, the response was massive. Mateen's Instagram follower count quickly swelled from 90,000 to 240,000. As of today, he has almost 370,000 followers.
Look, this man is super fine. I can't deny it.
But if we're drawing princely comparisons here, I have to say, what always won me over with Prince Harry was his relatable boyishness.
Just look at him!
Prince Mateen, on the other hand, while certainly handsome, looks like such a serious person.
Really, even while posing with this adorable munchkin (is it even legal for him to have a tiger as a pet?), he's frowning.
OK, the juxtaposition of his slightly murder-y eyes with the cuteness of the cub is freaking me out a little.
Maybe he just thinks he needs that serious face to make him look handsome.
Don't worry, Mateen. You don't. *wink*
Citations: Brunei's hottest royal is Asia's answer to Prince Harry (Mashable), 19 Questions with the Prince of Brunei (GQ)