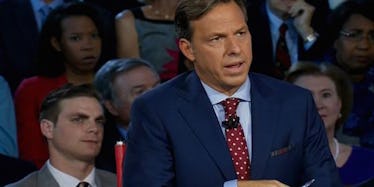 This Hot Guy At The GOP Debate Basically Just Won The Entire Election
Hubba, hubba! If this is the face of the GOP, then I *heart* Huckabee.
I *heart* him soooo effing bad. *Bites bottom lip*
Goddamn, do I *heart* him.
Those of us who tuned into the GOP debate last night got to hear Marco Rubio's in-depth explanation of his foreign policy plans, Carly Fiorina take down Donald Trump for disparaging comments about women all over the world and Chris Chris…
HOLD DA FUG UP!
WHO IN THE DANG HELL IS THAT TALL GLASS OF GUN-LOVIN'-ANTI-PLANNED-PARENTHOOD-SHOW-ME-HIS-BIRTH-CERTIFICATE-YELLIN' SMOKE SHOW SITTING BEHIND JAKE TAPPER?!?!?!?!
Other probably important stuff happened at the debate last night, but it didn't matter in the slightest as the Internet was rightfully enamored with some mystery hot guy sitting behind the moderator's desk.
#hotdebateguy won the day and will be our next president. #digitaltrendoftheyear — The Legendary Midge (@Midgen24) September 17, 2015
#mysteryhottie #areyousingle #GOPDebate pic.twitter.com/IGTO82745j — Jillian Marie (@princessjillyms) September 17, 2015
The #HotDebateGuy tho. They should keep a camera on him and put a picture-in-picture of him on the screen. #GOPDebate @CNN #CNNDebate — Victoria Vartan (@victoriavartan) September 17, 2015
Who is #HotDebateGuy!?!! #GuyBehindJakeTapper #GOPDebate — ANTHONY RAMOS (@AnthonyRamosAH) September 17, 2015
Looks, poise and the most chiseled jawline there ever was led to #HotDebateGuy trending on Twitter.
Oh. BY THE GODDAMN WAY, HE'S A FRIGGIN' BILLIONAIRE.
Just professed my undying love/lust for #HotDebateGuy on the morning news. And that was BEFORE I learned he is a billionaire. — Blaine Stewart (@BlaineStewart) September 17, 2015
CBS News revealed after the debate #HotDebateGuy was 24-year-old Greg Caruso, son of billionaire real estate developer Rick Caruso. He attended film school at USC and is working on a documentary called "Making The American Man."
You can stop looking, by the way. He doesn't have a Twitter or -- what would have been -- a super hot Instagram page. CNN couldn't even get him to admit if he had a girlfriend or not which is COMPLETE BULLCRAP, CNN. GIVE US THE INFORMATION WE NEED.
He did tell CNN, however, he looks up to George W. Bush, so like, ugh, ew. I wish I didn't know that about him. This kind of ruins everything.
JK, it ruins nothing.
Real winner of last night's #GOPDebate appears 2 b #HotDebateGuy who was sitting behind moderator! #Trending #Fox35 pic.twitter.com/AWtygU5wWO — LuAnne Sorrell (@luannesorrell) September 17, 2015
This election season, GOP is spelled D-A-Y-U-M-M-M-M-M.
Citations: The GOP Debate's TRUE Winner The Mystery Hot Guy In The Crowd (Refinery 29)