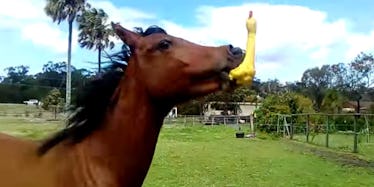 Horse Makes Rubber Chickens Funny Again By Playing One Like An Instrument
Youtube
While the nights may feel long and cold, we can at least always take comfort in our old friend, the internet.
During those nights you're forced to stay indoors because there's not a chance in Hell you'll brave temperatures like 10 degrees (or, for my fellow Californians, 60 degrees, brrr...), you can always turn to YouTube for a laugh.
Pour yourself a hot toddy, like a super strong one, so strong you confuse this horse playing with a rubber chicken for an alcohol-fueled night at the club with the hottest DJ spinning some EDM, and enjoy.
An Australian horse named Kruzah is absolutely obsessed with a rubber chicken, which remains unnamed, but one that I would call Sergeant Swock if you asked me.
The 1-year-old horse spends most of his downtime squeaking the rubber toy.
Helpful hint: Cue up Rihanna and Drake's "Work," and watch this GIF on repeat. You're welcome.
His owner Debbie Barber said Kruzah was born a dummy foal -- which sounds mean, but it's actually what horses are called when they are starved of oxygen at birth.
As a result, he has damage of swelling around his brain.
He had a total blood transfusion shortly after he was born and is now the picture of health.
He's also a big fan of a silver ball.
Barber posted on Facebook,
We had no idea Kruzah's video would make such an impact and are truly happy he has made so many people smile.
Klassic Kruzah.
She added,
This beautiful character Kruzah brings light and smiles when we need them, no anti depressants needed when he is around. It is hard to believe he was born a dummy foal and thanks to he's owners foresight and a total blood transfusion he now brings wonder to us all.
Kruzah is the hero we need.
Citations: Turns out true joy is a horse playing with his beloved rubber chicken (Mashable)