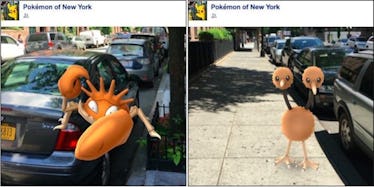 This Hilarious 'HONY' Parody 'Pokémon Of New York' Is Completely Spot On
If you're a big fan of the photo series Humans Of New York, I have some good news for you.
It turns out, HONY just got hijacked by the hottest creatures on the internet right now: Pokémon. That's right, the Pokémasters over at College Humor recently set out to put a spin on HONY by creating an awesome parody account called Pokémon Of New York.
This Pokémon-inspired account pokes fun at the original Humans Of New York project by showcasing a bunch of Pokémon Go characters standing on the streets of New York, along with a quote that reveals their innermost thoughts and aspirations.
The thought-provoking Pokémon project features everything from a Krabby that's super proud of who he's become to a Staryu that just wants the world to know it has feelings like the rest of us.
If one thing is for sure, all of these funny HONY recreations are pretty much guaranteed to make you laugh, or at least give you the urge to run through the city streets with a couple Pokéballs and catch 'em all.
Check out the pictures below to see the Pokémon Of New York:
We don't always step to the same beat.
I'm not a waste of a Pokéball.
Hard work always pays off.
Sometimes you just have to be comfortable in your own scales.
Don't let my appearance fool you. I'm not an average Pokémon.
Never forget who helped you get to the top.
Staryus have feelings, too.
Citations: Pokémon of New York (College Humor)