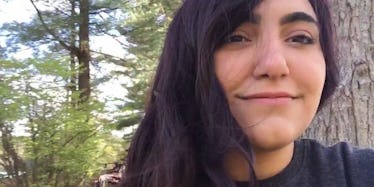 This Woman Perfectly Shut Down A Horrifying Holocaust Pickup Line From A Tinder Match
Twitter @scottcpilgrim
This past Friday, 19-year-old Connecticut student Angelica was hanging out with her 15-year-old little sister when they decided to log on to Tinder to have some fun.
Angelica has a Tinder account, but in an interview with BuzzFeed News, she explained that she typically logs on there "as a joke."
Recently, her sister was swiping through her account when she came across the profile of Danny. He was posing with a Ronald McDonald statue in his profile picture, and she thought it was funny, so she swiped right.
That's when things took a turn for the worse.
The two matched, and at that point, Danny decided he'd "woo" her with this creepy, offensive line that Angelica perfectly shut down.
Yes, you read that correctly. Danny literally told Angelica, "If I had the chance to stop the holocaust or go on a date with you, I'd take the date with you."
And her simple, straightforward response definitely put Danny in his place: "I'm Jewish."
If you're wondering how the conversation could possibly get any worse after that, Angelica was kind enough to keep this Twitter user in the loop.
Yeah... Danny really managed to figure out a way to actually make this conversation even more insensitive and painfully awkward.
Needless to say, Twitter was disgusted by this after Angelica posted the convo.
There was one guy who even came forward as "Danny," and Angelica got the chance to confront him live on Twitter.
Outside of her response to this tweet, there's no real confirmation that this guy is, in fact, the same Danny from Tinder.
Lots of people made the argument that Danny was probably just joking around or trying to be sweet.
To that, Angelica told BuzzFeed News, "I don't think so. I feel like he genuinely thought it was a good pickup line."
Oof. Yikes, Danny.
Just for future reference to any humans out there: A "joke" about mass genocide probably isn't your best bet at a pickup line. So just don't joke about it at all.
Citations: People Are Applauding This Teen's Response To This Dude's Seriously Horrifying Pickup Line (BuzzFeed News)