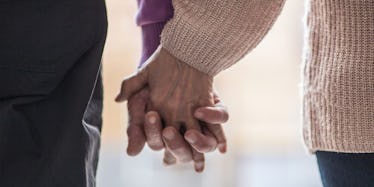 Holocaust Survivor And Soldier Who Rescued Her Spend 71st Valentine's Day Together
Mosuno
In maybe the most epic love story of all time, a Hungarian Jewish woman is celebrating Valentine's Day with the Scottish soldier who saved her from Aucshwitz for the 71st year in a row.
Edith Steiner, 92, was 20 years old when she and her mother were sent to the concentration camp. They were in the camp for six weeks and were the only members of their family to survive. The rest were immediately sent to the gas chambers.
According to DailyMail.com, Steiner was there during a time period when "Angel of Death" Josef Mengele was conducting his awful experiments, and was marched to the Bergen-Belsen concentration camp to face summary execution.
However, John Mackay, now 96, was in the ranks of a commando team that was able to liberate a substantial number of Jewish prisoners from their Nazi guards.
At a village hall dance where Edith was celebrating the liberation, she caught John's eye. (He was 23 at the time.) In a classic move, he sent a friend over to ask Edith if she wanted to dance with him. But she refused to his offer unless he came over and asked her himself.
The rest, as they say, is incredible history.
Edith, aka Eci, and her mother followed John back to his homeland of Scotland after they were married on July 17th, 1946. Together, they owned a hotel before retiring and made a family of two children, seven grandchildren and five great-grandchildren.
The couple's daughter, Sharon Mackay, told DailyMail.com her father was captured in North Africa early in the war. He escaped an Italian prisoner of war camp by dressing as Italian soldiers with one of his friends, and the two had to keep moving for 18 months to evade recapture.
They now live in a retirement home, and the employees of the home say their love is clear and strong.
Pamela Shaw, an activity coordinator at the care home the pair now lives in, says, "John is a true gentleman. He is always checking in to make sure Eci is happy and the pair still refer to each other as 'sweetheart' on a daily basis."
This Valentine's Day, Eci and John's advice to young people in love is to keep the romance alive all year round.
The two are celebrating their 71st Valentine's Day together with a party and by welcoming all of us to share in their incredible love story.
Citations: Auschwitz survivor spends 71st Valentine's Day with soldier who rescued her Read more: http://metro.co.uk/2017/02/14/auschwitz-survivor-spends-71st-valentines-day-with-soldier-who-rescued-her-6446948/#ixzz4YguWBlhg (Metro), Auschwitz survivor, 92, and the Scottish soldier, 96, who saved her as she was being marched to her DEATH celebrate their 71st Valentine's Day together Read more: http://www.dailymail.co.uk/news/article-4221108/Soldier-rescued-Jew-celebrate-Valentine-s-Day.html#ixzz4Ygub9ghR Follow us: @MailOnline on Twitter | DailyMail on Facebook (Daily Mail)