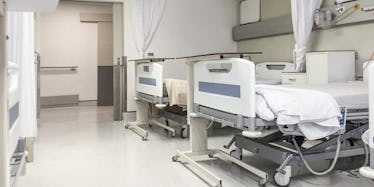 HIV Is Still On The Rise, Despite More Advanced Treatments Than Ever, Science Says
There are plenty of advancements being made in the medical world when it comes to HIV treatment... but that doesn't seem to have done wonders to reduce new HIV infections.
Antiretroviral therapies (ART) have made great strides in preventing and treating HIV infections, and trials show early treatment with ART can actually prevent HIV transmission.
With these therapies available, HIV prevention campaigns moved slightly from pushing condom use as a form of protection toward getting tested and receiving the proper treatment if necessary.
But as a result of this shift, people have become more lax about their condom usage.
Just how lax are we talking here?
Well, a survey of participants at gay pride parades in the US over the past 19 years found a consistent increase in condomless anal sex among men.
ScienceDaily reported the number of uninfected men having condomless receptive anal sex has doubled. And if you thought that was a lot, rates of insertive condom-less anal sex have more than TRIPLED in HIV-positive men.
If you're more of a numbers person, let me put it for you this way: Researchers analyzed results of surveys from the 1997 Atlanta Gay Pride Parade, when 43 percent of uninfected men admitted to having condomless anal sex.
However, the most recent survey researchers analyzed was from 2015, which saw a jump to 61 percent of men having anal sex with no condom.
Researchers noted a similar trend in HIV-positive men, with 25 percent engaging in condomless sex in 1997 and 67 percent doing the same in 2015.
Needless to say, this isn't doing wonders for reducing HIV transmission rates. The survey found rates of HIV infections are either staying the same or they're increasing, even in countries that have boosted testing availability and ART access.
Basically, knowing they have the treatment there as a backup for the worst case scenario seems to have made people a little too comfortable.
Study leader Seth Kalichman, of the University of Connecticut, explained in an article in Springer,
Treatment-related behavioral beliefs in this study paralleled a resurgence in condomless anal sex among men who have sex with men measured over nearly two decades. The current study adds to the mounting evidence that substantial changes have occurred in community-held beliefs that condomless anal sex is safer in the era of HIV treatment as prevention.
Well, you heard it here first, folks: Having a good treatment for HIV doesn't make condomless sex any safer!
Citations: Beliefs about better treatment for HIV leads gay men to engage in riskier sex (ScienceDaily)