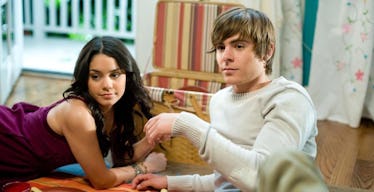 Guess Which 'High School Musical' Star Is Under Criminal Investigation
Walt Disney Studios Motion Pictures
"High School Musical" (and let's not forget "High School Musical 2") star Vanessa Hudgens is under criminal investigation for defacing one of Arizona's most beloved landmarks.
TMZ reports the Red Rock Ranger District of the Coconino National Forest plans to investigate Hudgens, along with her boyfriend, Austin Butler, for carving their names into a prized rock formation.
While vacationing in Sedona, Arizona, over Valentine's weekend, the couple participated in a little criminal activity, afterward posting a pic of it to Instagram.
The photo of the etching has since been taken down. Luckily, TMZ got a screen grab.
Located within a national park, defacing the rock violates a federal law that explicitly prohibits "damaging natural surfaces or property of the United States."
If convicted, Hudgens and her boyfriend could face a $5,000 fine and/or a six-month prison sentence.
So remember, next time you jump on social media to share your vacation pics, make sure to leave out the criminal evidence.
Citations: Vanessa Hudgens: Criminal Investigation for Defacing Precious Rocks (TMZ)