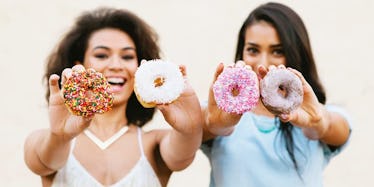 Here's Where You Can Get Free Doughnuts In Honor Of National Doughnut Day
Ellie Baygulov
Today is an exciting day, guys.
Not only is it finally Friday (thank goodness), but it's also National Doughnut Day, which means one thing: FREE FREAKIN' DOUGHNUTS.
OK, OK... it means a little more than that. Believe it or not, there's a pretty extensive history behind National Doughnut Day that not too many people know about.
In case you're unaware, the holiday originated in 1938 when the Salvation Army started a fundraiser to celebrate the "doughnut girls" who baked doughnuts for soldiers during World War I.
Thankfully, National Doughnut Day is still being celebrated today, and doughnut chains across the country are honoring the holiday by showering their customers with free doughnuts.
If you're planning on starting your weekend off with a free doughnut or two, stop by these places and see what kind of free goodies they're offering (while supplies last).
Dunkin' Donuts
Dunkin' Donuts is celebrating National Doughnut Day by offering customers a free classic doughnut with the choice of any beverage. Go grab one at participating stores while doughnuts are still available!
Krispy Kreme
Krispy Kreme is celebrating the big day by offering pastry-lovers one free doughnut of their choice when they visit. No purchase is necessary in order to score the doughy treat.
Entenmann's
Instead of getting just one free doughnut in honor of the holiday, Entenmann's is giving its customers the chance to win free doughnuts for an entire year.
To enter the National Donut Day Sweepstakes, click here. Feeding America will receive $1 per entry, so it's definitely worth a shot.
Tim Horton's
Tim Horton's is giving customers a free classic doughnut with every purchase of a brewed hot or iced coffee in select locations.
Duck Donuts
Duck Donuts is also giving away free doughnuts with every purchase, so don't forget to stop by!
Now that you know where to go for a free doughnut, make sure to take a coffee break from work and stop by for a treat.