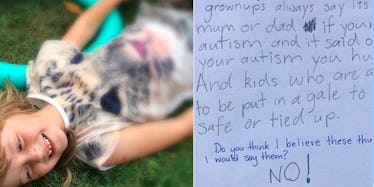 This Autistic Girl's Conversation With Her Mom Will Break Your Heart (Photo)
A heartbreaking exchange between a 7-year-old girl with autism and her mother offers a rare glimpse into what people diagnosed with the developmental disorder go through by being unfairly judged by an uninformed world.
Many people will go through life not fully understanding how to deal with the autistic community.
It's the inability to interact with someone diagnosed with autism that leads to horrible stigmas about the disorder, stigmas like how people with autism are unfriendly or entirely too dangerous to even deal with.
These beliefs have negative effects on the autistic community, too, as addressed in a post uploaded to "I am Cadence," a Facebook page devoted to educating the public about autism.
What 'messages' are children hearing - from ourselves, from other parents, at school, from media and in the general... Posted by I am Cadence on Wednesday, November 11, 2015
The written correspondence between Cadence and her mother started with Cadence asking if having autism makes her bad.
Her mother responded by asking why having autism would make her bad. Cadence answered,
Grownups always say its hard being mum or dad if your kid is autism and it said on the TV if your autism you hurt people. And kids who are autism have to be put in a [jail] to keep others safe or tied up.
Heartbreaking.
Cadence's mother responded by asking if Cadence thought her mom actually felt that way about her. Cadence answered, "No!" before revealing what she really thought. The 7-year-old said,
I don't like hurting people. I don't like being scared. I would be scared in a [jail] room. I was born autism but that doesn't mean I was born bad.
According to the letter, Cadence's mother was crying at this point. The mom told her daughter,
I have happy tears that you know what is true; and I have sad tears because there are lots of people who don't know what is true.
Hopefully, this powerful post helps people understand the harm they can cause the autistic community by having negative attitudes toward those with the disorder.
Citations: This Girl With Autism Asks Her Mom a Heart-Wrenching Question (POPSUGAR)