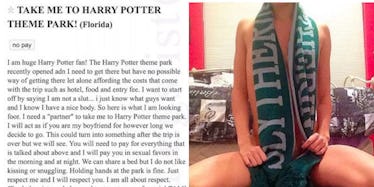 Woman Posts Insane NSFW Ad For A Date To The Harry Potter Theme Park (Photos)
Craiglist
Ah, The Wizarding World of Harry Potter theme park. Magic, family fun and the business of trading sex for Butterbeer collide enchantingly at the new Florida attraction.
This week DudeComedy.com, where thumbnails of cleavage go to feel at home, unearthed a Craigslist ad posted by a woman looking for an all-expenses-paid vacation to The Wizarding World of Harry Potter.
In return, the poster promised to repay her sponsor with sexual favors.
Her full ad read,
I am huge Harry Potter fan! The Harry Potter theme park recently opened adn I need to get there but have no possible way of getting there let alone affording the costs that come with the trip such as hotel, food and entry fee. I want to start off by saying I am not a slut… i just know what guys want and I know I have a nice body. So here is what I am looking foor. I need a 'partner' to take me to Harry Potter theme park. I will act as if you are my boyfriend for however long we decide to go. This could turn into something after the trip is over but we will see. You will need to pay for everything that is talked about above and I will pay you in sexual favors in the morning and at night. We can share a bed but I do not like kissing or snuggling. Holding hands at the park is fine. Just respect me and I will respect you. I am all about respect. Check the pictures below and text me to see a face pic! TALK TO YOU SOON : )
Rather than attach a few headless nudes like a complete amateur, the woman added festive socks and a scarf for thematic purposes.
Accio sexy socks!
Accio strategically-placed scarf!
Accio…butt?
Ascendio penis!
According to DudeComedy.com's coverage, the position was since filled (get your LOLs out) and the dreams of one ambitious Harry Potter fan were finally realized.
Citations: ARTICLES Desperate Girl Posts Dirty Pics in Attempt to Go to Harry Potter Theme Park (DudeComedy)