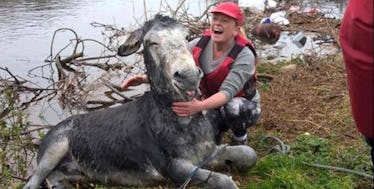 The Happiest Donkey Alive Smiles After Being Rescued From A Flood (Photos)
A victim of this weekend's vicious storm in the North Atlantic has been miraculously rescued, and he couldn't be happier.
Mike, a donkey from Killorglin, Ireland, was out minding his donkey business on Saturday when monsoon-like rains flooded his home field and left him stranded, shivering and nearly drowning in a ditch.
Fortunately for Mike, the folks of Animal Heaven Animal Rescue arrived on the scene to pull the little guy out of the trenches.
The mission was eventful, as a video posted to Facebook shows. But once freed from the chilly waters, little Mike showed his thanks, offering up a cheesy grin to the camera as a sign of gratitude.
The video and accompanying pictures of the grateful donkey have since gone viral, and once you see how freaking cute it is, you'll understand why.
Check it out, below and learn more about Animal Heaven Animal Rescue here (oh, and by the way — Mike's doing just fine in his new warm home).
The folks at Animal Heaven first spotted Mike stranded in the flooded field, struggling to keep his head above the water.
So they rallied to rescue him, using a floatation device to drag him to shore.
Mike was super happy to be out of that dirty, cold water.
Super, super happy.
He thanked his saviors...
...And now, he's enjoying some quality R&R.
Get better, Mike!
Watch the full rescue here.
Posted by Animal Heaven Animal Rescue on Sunday, December 6, 2015
Citations: You Need To See This Picture Of A Smiling Donkey Rescued From A Flooded River (BuzzFeed)