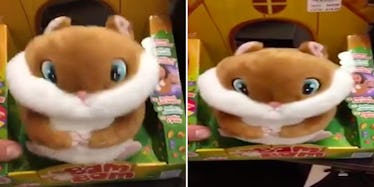 Shoppers Left Confused AF When Hamster Toy Sounds Like It's Having Wild Sex
Yout
Everyone gets jazzed when they get a new toy!
But the toy itself should not get so... uh... excited.
Honestly, the way this toy hamster acts makes me want to close my laptop, go to church and confess. I'm not even Catholic.
A couple was innocently strolling through the store when they came across an adorable children's hamster toy. Luke King, 27, and his wife Francesca noticed the "Try Me" button.
They were left red-faced after hearing this:
After the hamster toy was turned on, it started to make what sounded like female sex noises... which happens a lot, and you would know if you ever turned a woman on yourself.
It isn't enough that the hamster made such scandalous sounds, but that vibration is simply beyond... risqué.
I never knew I had delicate sensibilities until this very moment -- and they are offended, kind sir.
I understand hamsters have a lot of children, but do our children really need to know the nitty-gritty of it all?!
The couple, who were just looking for a toy for their niece, were so innocent and pure the rodent's aroused noises made them leave the store. He said,
It started coming out with very unusual sounds for a kids' toy. It was making these screaming sounds and I was like, 'Oh my God.' I was a bit embarrassed because there were quite a few people looking at me. My wife told me to shut it off because it was really loud and it didn't sound very appropriate. It sounded like a woman engaging in sexual activity. It definitely raised a few eyebrows.
The Bam Bam Hamster Soft Toy is made by a Spanish manufacturer IMC Toys under the Club Petz brand.
The plushie is described as a "cute and cuddly bonkers bouncing hamster," and, much like myself, will start "shaking and bouncing all over" if you squeeze it.
King said,
I don't know the background to the toy. But you would think it would get to the marketing or developing stage and someone would think, 'Hold on a sec, this doesn't sound right.' Maybe that's why it wasn't selling.
Maybe we shouldn't be slut-shaming this hamster, though.
Citations: Shoppers are stunned to find a VERY excitable hamster toy on the shelves at Debenhams which sounds like it is having sex when it is turned on (DailyMail.com)