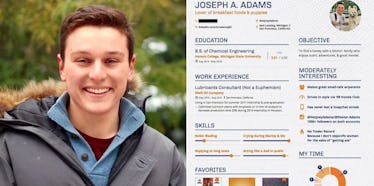 Guy's Dating Resume To Get A GF Goes Viral And It's Actually Working
Facebook/ Twitter
In order to successfully land a date in 2017, you must be creative.
We live in a world full of dating apps, and sadly, you're only as good as your witty pickup lines and online profile.
While we've been obsessing over our virtual appearance on Tinder and Bumble, Joe Adams has been constructing an impressive dating resume to help him find a girlfriend.
You read that correctly: A dating resume.
Apparently, Adams became inspired to make a "dating resume" after he was denied by a girl who asked him for one in the past.
At the time, he didn't have one — so he decided to write one for his next dating opportunity.
Joe told Elite Daily,
I thought if this ever happened again, I would want to be prepared. So I went home and started making my resume. I put two or three hours into it and then I was ready to go!
Needless to say, that girl missed out because this resume is impressive AF.
He's a lover of breakfast foods and puppies! C'mon, now!
In the organized and incredibly detailed assessment of the eligible junior at Michigan State University, Adams' resume lists his work experience, skills, pastimes and just about everything else that would make a college girl swoon.
His objective is "To find a honey with a bitchin' family who enjoys sushi, adventures and good movies."
He also notes he makes great smalltalk with parents, doesn't have a Tinder and cries during "Marley & Me."
What a catch, right?
His dating resume went viral after he posted it in the comment section of a Facebook post in his college group.
The post was written by a girl named Ashley Harrington, who was trying to find her roommate a date to the prom, and Adams took this as a prime opportunity to use his dating resume.
He posted the resume in the comments with the caption, "I HAVE BEEN WAITING FOR THIS MOMENT."
Soon enough, his resume went viral — but Joe didn't get the date with the Ashley's friend.
He told Elite Daily,
Ashley's roommate ended up asking someone else to her formal! It would have been fun to go, but I'm glad she found someone she actually knows to go with her. It really mitigates the chance of getting catfished that way.
However, a ton of other girls jumped on the opportunity to date him, and apparently, "spots are going fast."
"If she doesn't take him I might."
"I'll be his date."
These are only a few of the offers Adams' received since his dating resume went viral. He commented on the hysteria, and said,
I've gotten literally hundreds of messages since the post went viral. Texts, tweets, instagram messages. I hope people aren't offended when I don't reply... It's just a lot to handle right now and I've had a huge influx of messages lately. I'm surprised I haven't gotten any handwritten letters yet; that honestly would be the best way to grab my attention.
Maybe we should all take a lesson from him and make our own dating resumes?
Hey, it's working for him!
Elite Daily has reached out to Joseph Adams for comment.