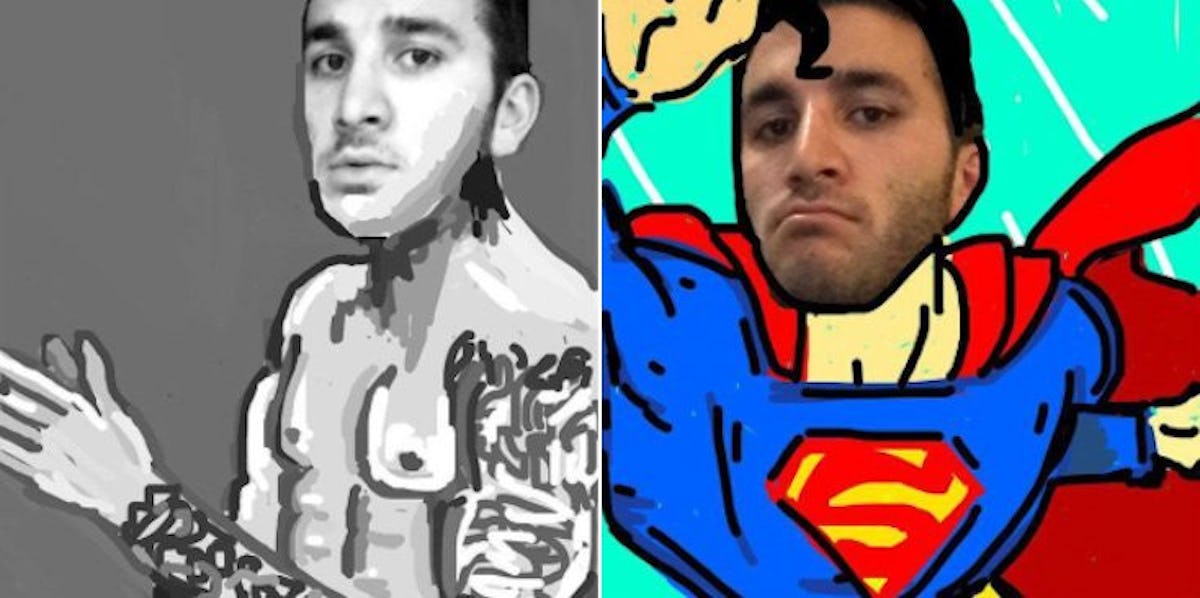 Guy Turns Snapchats Into Detailed Works Of Art And We're Seriously Impressed
Matthew Perlman
I like to consider myself a creative person, but after seeing Matthew Perlman's Instagram account, which is completely dedicated to his detailed Snapchat artwork, I thought twice about my artistic snapping skills.
The 23-year-old graphic designer from Los Angeles, California decided to take his Snapchats to the next level by turning each snap into a colorful work of art. Almost every one of them shows his face on influential characters and celebrities in pop culture.
Seriously -- whether he's featuring Hey Arnold or Justin Bieber, Matthew's Snapchat art is insanely detailed and will put your location stickers to shame.
See?! I can't even draw a straight line on Snapchat and he's basically illustrating full scenes with the swipe of a finger. Kudos, Matthew. Your work is seriously impressive.
In fact, I was so impressed by his Snapchat art that I reached out to him and asked about where he found his inspiration.
Matthew tells Elite Daily,
I have been doing graphic design and art ever since I was young, and when I realized there was an outlet for me to create art on social media, I jumped at it. I've always played around with the paint tool on Snapchat and when I made my first piece my friends loved it, and I continued to create more!
His friends weren't lying. These are not your typical Snapchats, and I took the initiative to find my favorites on his Instagram page. Take a look and try not to cry when you realize your Snapchat skills are way below par.
Check out Beyonce and her hand-drawn newborns.
Flawless.
Drake?! Is that you?!
He's even showing up on Tinder accounts.
"Call me Caitlyn."
Can't forget about Miley!
Check out his Coachella style.
He's the Superman of Snapchat.
Heck, you can even call him the wizard of Snapchat.
This one is super abstract.
That detail, though...
This one's oddly adorable.
OK, I think you get the point. Matthew's snaps are far superior to ours, and we can spend hours admiring his creative skills.
The Snapchat wizard (aka Matthew) tells Elite Daily it takes him about 30 minutes to create each piece of art. His favorite? Justin Bieber, of course.
As I was scrolling through his work, I felt compelled to ask him why he always features himself in his snaps. He tells us,
I like to feature myself in the Snapchat Art for the humor aspect (i.e. Justin Bieber's Calvin Klein ad) and also for the realistic aspect to show that I am the one creating it solely with my iPhone and my index finger!
Honestly, I'm baffled by his Snapchat skills and hope my snaps will someday be as creative and impressive as his.
In the meantime, I'll stick to puppy filter.