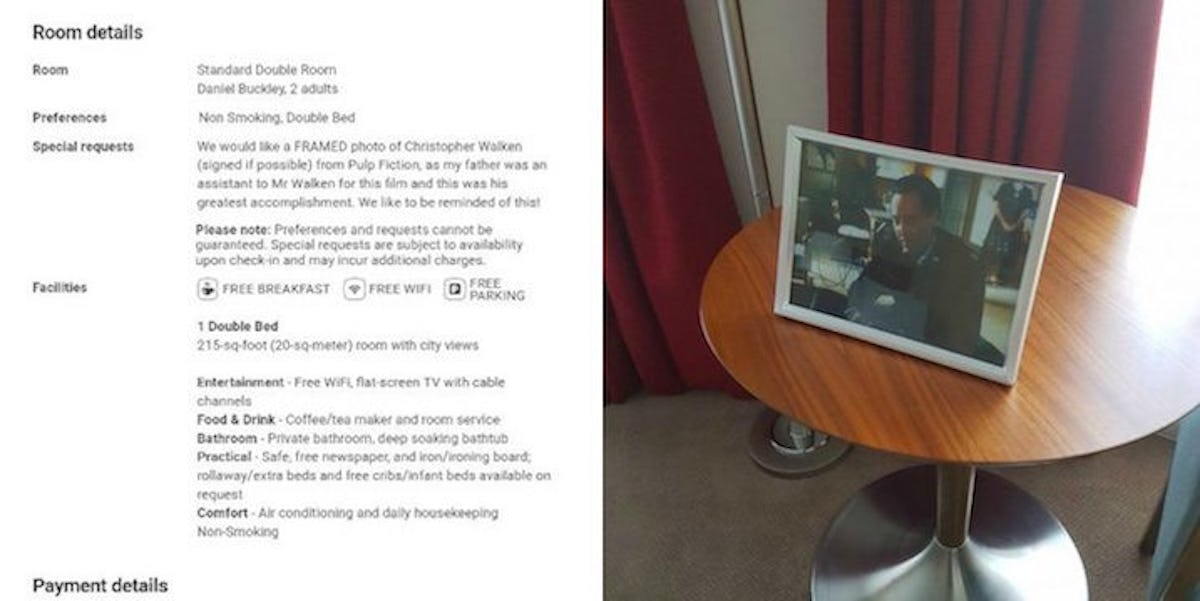 Guy Trolls Hotel With Ridiculously Specific Room Request And Hotel Delivers
Facebook
Christopher Walken, guys.
Amiright, or amiright?
(I'm definitely right.)
It's hard not to love Christopher Walken. Not only is he a supremely talented actor who's starred in dozens of our favorite movies, but he also does stuff like this:
Honestly, after you watch that, you shouldn't be surprised whatsoever by Daniel Buckley's odd hotel room request.
Buckley booked a room last week at the Pembroke in Kilkenny, Ireland.
Upon his arrival at the hotel, he claimed he was feeling "mischievous" and decided to make a very strange request to the Pembroke staff.
Buckley's request read,
We would like a FRAMED photo of Christopher Walken (signed if possible) from Pulp Fiction, as my father was an assistant to Mr. Walken for this film and this was his greatest accomplishment. We like to be reminded of this!
And, if you think Pembroke didn't deliver, you thought wrong.
As Buckley wrote in his Facebook post, "they've only gone and bloody done it!"
It's kind of unbelievable. I can't even get staff at the hotels I stay in to bring me fresh towels.
Buckley seems to be a man of simple pleasures.
Pembroke Hotel seriously doesn't mess around when it comes to customer service.
Elite Daily spoke with Buckley, who described the hilarity of his check-in when he arrived at the Pembroke:
The two people on reception, when they entered my name into the computer for check-in, kind of started giggling. I guess the request came up on their computer and knew what was about to come. The picture was on a table in the middle of the room as soon as I arrived there. It was such a nice day that the sun was hitting the glass of the frame, so it took me a while to notice that they had signed it as well.
So. Much. Dedication.
Buckley also admitted he's done this before:
I actually have done this to other hotels before but only one other has come through! It was the Harcourt hotel in Dublin before the Dublin marathon in 2015. It was a request specific to Irish comedy show Father Ted.
Unfortunately, he also admitted his father "hardly knows who Christopher Walken is."
He added,
The whole story for the request is entirely false. We were talking about how great an actor he was just as I came onto the request section so I decided to make him the centerpiece for this request.  
Still hilarious nonetheless, if you ask me.
And I personally think Buckley totally deserves to meet the real Christopher Walken.
Citations: Man makes gloriously odd hotel request, hotel delivers (Mashable), PIC: This guy made a great Father Ted request when booking his hotel, and the hotel provided it (JOE.ie)