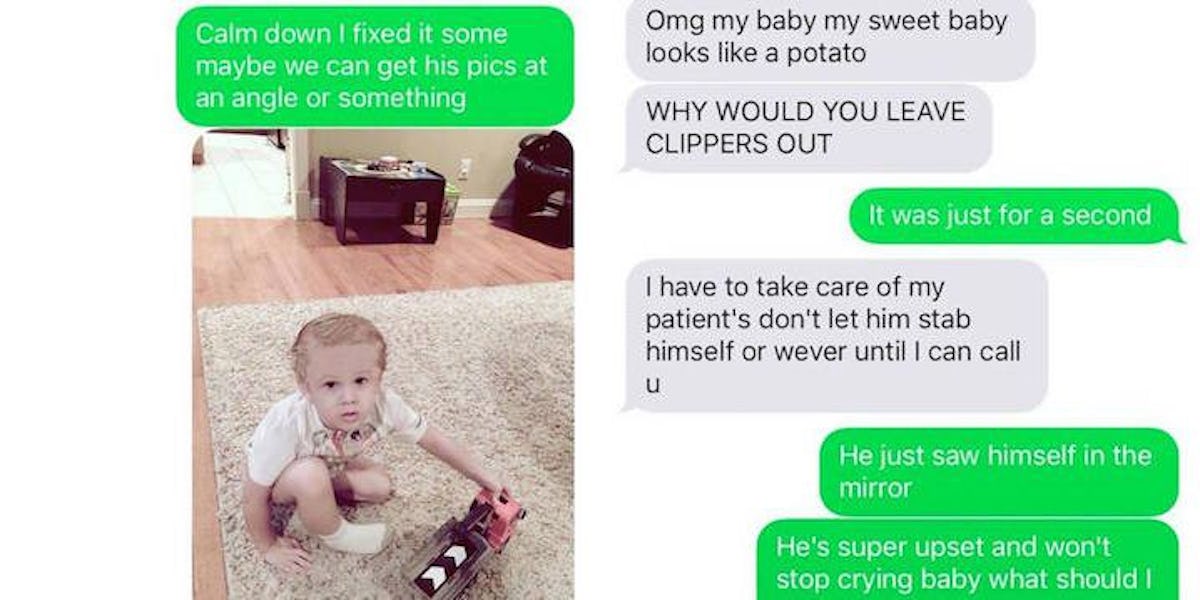 Guy Tricks Wife Into Thinking Son Shaved Head And Her Reaction Couldn't Be Worse
Imgur
If you're going to text your wife and trick her into thinking your kid accidentally shaved the hair off his head, you need to be prepared for an array of responses.
Some mothers might find the accident funny and praise their child's new look for being "unique," while others might freak out at the sight of their baby's new 'do.
One jokester of a husband played the prank on his wife while she was at work, and she was convinced her "sweet baby" shaved all his hair off.
Her husband's elaborate prank involved Photoshop, posing and a ton of convincing, but the reaction he received was priceless.
The conversation appears harmless at first -- that is until he tells his wife they need to reschedule their family pictures.
When his wife starts questioning him, he tries to butter her up before sending a picture of their child's shaved head.
Just when she starts freaking out, he pretends he's trying to fix the hairdo and sends a picture of the trimmers on the floor with strands of blonde hair.
At this point, she's livid and jokingly threatens to leave her patients and kill him if he doesn't tell her what's going on.
To make matters worse, Bobby tells her it was her fault because she was the one who wanted to take family photos in the first place.
"Omg my baby my sweet baby looks like a potato."
Her husband then stages his son under the blankets to make it look like he was hiding from shame.
To make his child feel better, Bobby insists he should shave his head, too.
Without further ado, he sends a fake picture of him and his son with shaved heads, and his wife loses her shit.
"IT LOOKS LIKE YOU CUT MY BABY'S HAIR WITH A WEEDEATER."
Right before his wife was about to leave work, he tells her it's a joke and sends pictures of their fully-haired heads.
Unsurprisingly, she's pissed and insists she's going to get her husband back for playing such a cruel trick on her while she's at work.
I'm not too sure what kind of prank his wife could play that'll top his, but I'm excited to find out.