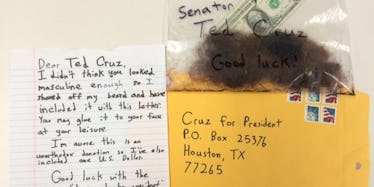 This Guy Shaved Off His Beard And Sent It To Ted Cruz For An Important Cause
Joey Clift
LA-based comedy writer Joey Clift has hit it out of the park with a very personal donation he recently sent to Republican presidential candidate Ted Cruz.
Announced via Facebook post, Clift put his freshly-shaved beard in a plastic bag along with one US dollar bill and a note that reads,
Dear Ted Cruz, I didn't think you looked masculine enough so I shaved off my beard and have included it with this letter. You may glue it to your face at your leisure. I'm aware this is an unorthodox donation so I've also included one US dollar. Good luck with the whole 'trying to be president thing.' Love, Joey Clift.
I think the icing on the cake has got to be the little stick figure of a bearded Cruz in the corner of the letter.
At this point, you're probably thinking two things: This is amazing, and what the f*ck? In an exclusive interview with Elite Daily, Joey said,
I've been growing my beard out for about 6 months and I was honestly just getting tired of it. As sort of a half joke I posted on Facebook that I was going to shave my beard and if anyone wanted it I'd totally mail it to them. A friend suggested that I mail it to Ted Cruz which was just so weird and funny to me. I made another Facebook post telling everyone that if I got 100 Facebook likes I'd actually do it and I got that in like 45 minutes.
Is this satire? Sure. I think what's funny about it is that Ted Cruz seems like such a weirdo. Like, of course that guy wants a bag of hair. Side note - I included a dollar with the bag of hair and I really feel bad for the intern they're going to make fish that thing out.
Without context, this package looks like it could either come from an 8-year-old fan or a 48-year-old serial killer. Either way, I really hope it shuts down Ted Cruz's campaign headquarters for an hour or two with its implicit anthrax vibes.
Be sure to follow Joey's Facebook page to stay updated on all his hilarious bits.