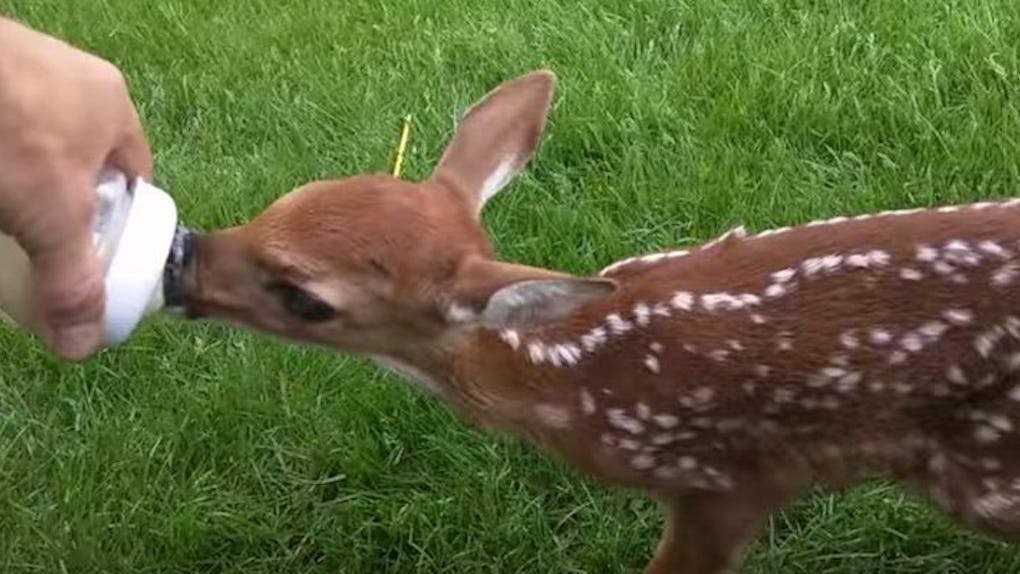 honeysada
Man Nurses A Baby Deer Back To Health And It Won't Leave His Side (Video)
Animal lovers, break out the tissues. This one's a doozy.
While deer-watching near Yellowstone National Park, an outdoorsman named Darius watched as an injured newborn deer was abandoned by her family and left to fend for herself.
Knowing she would likely be killed, the man took the fawn in, and over the course of several weeks, he nursed her back to health.
The fawn grew attached to Darius, and he to her. He bottle-fed her up to six times per day and tended to her broken leg, wrapping it in a splint to help it grow stronger.
Even his dogs came to accept the fawn as family, playing with her as if she were one of their own.
Eventually, when the deer had grown strong enough to re-enter the wild, Darius located her mother and siblings and reunited the family of Bambis.
About a month ago, Darius posted a video of the life-changing experience to YouTube; he had documented every step of the fawn's rehabilitation, from her rescue to her eventual re-release into the wild.
The touching video is long -- nearly 17 minutes -- but worth setting aside time to watch. There's nothing like a happy ending to remind you the world isn't such a bad place.
Watch the heartwarming video, below.
Citations: Baby Deer Doesnt Want To Leave The Man Who Saved Her Life (The Dodo)