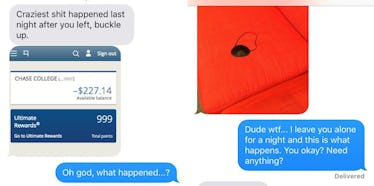 A Guy Hooked Up With A Pirate Hooker Who Took All His Money, So You're Fine
Imgur
I'm honestly not sure if this guy failed or succeeded.
I guess that depends on whether you think having sex with an eye patch-wearing hooker and losing all your money counts as winning.
The crazy part is I didn't exaggerate at all right there.
According to the following text messages, a guy, who based on the screenshots is named Casey, was about to call it a night when he made what could've been the riskiest, possibly extremely offensive move of saying "y'arrr!" to a woman with an eye patch walking near him.
Miraculously, instead of flying off the handle about how absurdly insensitive that is, the woman actually laughed and struck up a conversation with Casey. Before he knew it, he was downtown at a hotel bar downing Long Island Iced Teas with this woman.
Well, I don't want to spoil all the details, so check out the story in the images below and get the story directly from Casey.
You know a text story is about to get real when someone sends you a picture of his or her extremely negative bank balance.
Hmmm, I can't imagine why the bartender at the hotel would be giving you strange looks, Casey.
Maybe, the bartender was looking at you strangely because you were basically getting ultra handsy in a random hotel bar with a woman with an eye patch. Nah, that definitely couldn't be it.
Damnit, Casey! Your drunk memory skipped over the good part of the story! Well, this is still pretty hilarious and absurd.
I would die if I found out I spent $500 on a night I couldn't even remember, especially if a big chunk of the money went to someone for sexual services, as it appears it did here. Not cool, drunk Casey!
At least the woman left Casey her eye patch! Now he has a souvenir from his unforgettable experience, which he totally forgot.
What a good person Casey's friend is, asking if Casey is OK.
Casey's own words answer that far better than I could.
He responded,
Nah I'm good. From what I can gather, it looks like I slept with some sort of pirate hooker... Worth it.
Now my mind's running wild about this woman. I have to know what this so-called "pirate hooker" looks like, and it pains me I'll probably never know.
In my mind, there's basically one possibility. Casey admits upfront in the messages he's drunk at this point.
So, it's possible the woman was not as hot as he imagined. That could also explain the strange looks from the bartender. Oh God, I can already imagine her pirate snaggletooth.
Nope, screw logic, this is definitely what the woman looked like.
Way to go, Casey! Maybe try to hold on to your money text time!