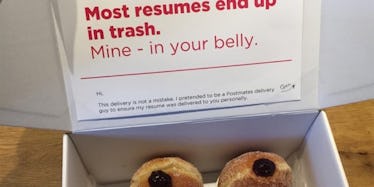 Clever Guy Landed 10 Job Interviews By Hiding Resume In A Box Of Doughnuts
Lukas Yla
We all know the struggles associated with finding a new job.
Often, getting that first interview is all about who you know, so if you don't have a connection on the inside, you're pretty much screwed.
Yep, trying to score an interview by applying for jobs online or sending your resume to random employers is usually just as effective as crumpling up your resume and tossing it right in the trash.
Unless, of course, you find a way to truly make yourself stand out from the crowd, like one clever guy named Lukas Yla.
After moving to San Fransisco, Yla started searching for a job in the tech industry.
Yla knew that the job competition would be pretty fierce, so to increase his chances of getting noticed, he came up with a resume idea that was totally out-of-the-box — the doughnut box, to be exact.
That's right. This creative genius hid his resume inside a box of delicious mini-doughnuts. He even dressed up as a Postmates courier so he could hand-deliver his sugar-coated credentials to the right person.
Inside the box, he kept his message short and sweet, providing a little information about himself along with a link to his real resume on LinkedIn.
Now, you're probably wondering what made Yla decide to go with a box of doughnuts, exactly.
Well, because it's awesome AF and if you ask me, giving someone a bunch of delicious doughnuts makes a way better first impression than handing over some shitty, boring cover letter.
Apparently, a lot of employers who received these edible applications seemed to think so, too. So far, Yla has lined up 10 interviews thanks to this tasty trick.
There's still no confirmation as to whether or not Yla has actually managed to score a position with one of these prospective employers.
But, hey, look on the bright side. If he doesn't land his dream job, he can always opt for a career as a bike messenger.
Citations: This Guy Turned His Resume Into A Box Of Donuts So Employers Would Actually Look At It (Distractify)