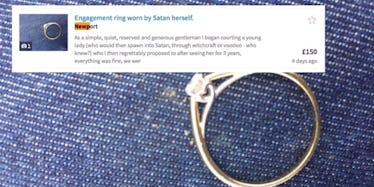 Guy's Detailed Post Selling Engagement Ring Of 'Satan' Ex-Fiancée Goes Viral
Gumtree
We all have that one "ex from Hell." This guy is using that fact to sell an engagement ring worn "by Satan herself."
Craig Holden from Newport, Gwent took to the site Gumtree to sell off his engagement ring that used to belong to his ex-fiancée for only £200, even though he purchased it for £1,000.
Here's the screenshot of the advertisement. They say sex sells, but perhaps Satan can do the job, too.
Craig blames the demise of his romance on "witchcraft or voodoo," which caused his then-fiancée to spin her head "360 degrees on a daily basis and she spewed venomous insults toward my aching heart. "
Whoa, I wouldn't put those symptoms into WedMD.
Here's Craig's full account of how his girlfriend spawned "into Satan."
When did things go really wrong between Craig and, uh, Satan? Craig writes,
Fast forward to the ten year mark, one day Satan awoke from its slumber and said "listen here, mere mortal... I *SATAN* (can't use her real name for legal reasons) don't like you" in a nutshell...
After cheekily saying he had a divine intervention from Jesus, who supposed told him to "go sinning bro," Craig packed his bags and left.
At the end of his post, Craig offers a warning, writing,
Disclaimer -- although worn by Satan herself it does not possess any magical powers or any black magic. Cannot guarantee it's 100% safe to be worn by those of faith.
Of course, when it comes to hilarious posts like these, the devil is in the details... and Craig's details are hilarious.
After posting the ad that's now gone viral, Craig basically compared the ring's haunted quality to Annabelle from "The Conjuring."
He said,
As a warning to a potential buyer, I figured I'd give a backstory as buying a second hand engagement ring could be see as bad luck to many. It's almost like buying a haunted doll.
Um, he does actually want to sell the ring, right?
Then again, I'm sure there is a huge community of people who'd like to buy a haunted ring.
This guy, for instance:
Citations: Diamond ring for sale with one previous owner…'Satan': Jilted fiancé, 28, puts ex's £1,000 engagement band on Gumtree for £200 claiming its past owner is the Lord of Hell (DailyMail.com)