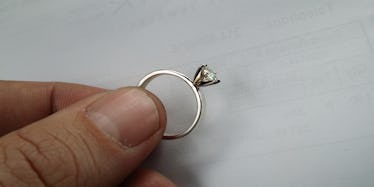 This Guy Spent Weeks Hand-Crafting The Perfect Engagement Ring For His GF
Imgur
Listen up, Tammys: Ron Swanson exists IRL, but he's taken, so back off.
Imgur user Jarvicious put his brief college experience with metal artistry to use to craft an engagement ring for his unsuspecting girlfriend.
He shaped a piece of copper from a tarnished scrap into a stunning expression of love and commitment.
Granted, THE ring didn't come together on his first try.
Jarvicious spent hours on practice drafts of the ring while his girlfriend was out at night class and her internship.
For the final version of the ring, Jarvicious used silver for the band.
Overall, including practice rings, he reportedly spent less than $300.
The finished product, which features a white-gold, six-pronged setting and a half-carat Moissanite stone, cost only $180...plus hours and hours of painstakingly tedious work.
Soon-to-be Mrs. Jarvicious loved the absurdly thoughtful surprise.
The craftsman shared,
She digs it. We had planned on getting married (eloping in New Orleans) anyway but both the fact that I was planning on building a ring and the fact that I knew how were news to her.
If "Parks And Recreation" taught us anything, it's a partner who can make a breathtaking ring from his or her surroundings -- be it a pal's wall sconce or some copper scraps -- is one worth locking down.
Citations: See How This Enterprising Boyfriend Made His Girlfriend's Engagement Ring By Hand (Cosmopolitan)