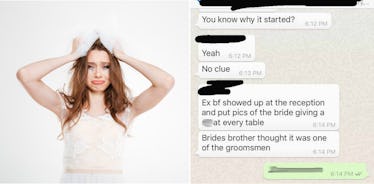 Guy Brings Photos Of Ex Giving A Blowjob To Her Wedding Reception
Shutterstock/Imgur
From the incredibly romantic proposal, to planning out each and every detail of your special day, tying the knot should be something to look forward to and cherish like no other.
Your wedding day beholds that unparalleled moment when you say "I do" to your soulmate and best friend in the entire world.
The couple gazes into each other's eyes as they fall in love all over again.
Two people proclaiming their irrevocable love for one another, surrounded by family and close friends… what could be more beautiful than that?
When it comes time for the reception, everyone clinks their flutes to the happy couple and parties the night away getting drunk by the ~highly anticipated~ open bar.
Weddings… aren't they the best, though?!
WELP, that surely wasn't the case for this couple's wedding day when things went south REAL FAST.
According to Brobible, this guy, who apparently has no shame whatsoever, showed up at his ex-girlfriend's wedding reception.
He came bearing his very own wedding gift for the happy couple… and let's just say it certainly was not made of rose gold or crystal.
Based on this text convo, the ex-boyfriend graced every table with photos of the bride giving a blowjob.
UMMMMM WTF, THIS IS DEF NOT COOL WEDDING ETIQUETTE BRO.
It seems as though this (completely brutal) dude literally gives zero fucks. BUT, there are always two sides to every story...
A massive fight broke out at the reception and things got super ratchet based on the footage.
OH HELL NAHHHHHHH.
Chairs were tossed, punches thrown and tables turned.
This wedding guest captioned her video,
So basically someone turned up to the wedding and showed an incrimiting picture of the bride!!
OOOOO SNAP.
If this chick over here was a guest at this wedding, I would have booked it the HECK OUTTA THERE.
One thing is clear: this guy defines complete and utter #Savage.
Citations: Dude Shows Up At Ex-Girlfriend's Wedding And Puts Pics Of Her Giving BJ's On Every Table, HUGE Brawl Ensues (Brobible)