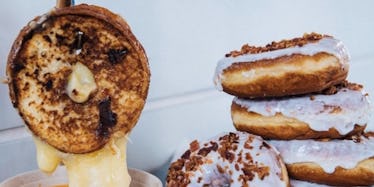 Grilled Cheese Doughnuts Are The New Hangover Bagels, So Start Drinking Now
Instagram
A delicious hybrid between gooey grilled cheese and fluffy doughnuts just hit the market, and it's something straight out of a foodie fairytale.
The savory new snack is called the "The Flamin' Hot Doughnut Grilled Cheese," and it's exactly what it sounds like.
GRILLED CHEESE + DOUGHNUT = PURE BLISS.
Go ahead and drool -- we're doing it, too.
It's hard to believe, but someone was finally curious enough to make grilled cheese with a doughnut, and we can't thank them enough for their delicious doughnut innovation.
Before I get into detail about who to send our thank you letters to, let's talk about what the Flamin' Hot Doughnut Grilled Cheese actually is.
The gooey treat is a Habanero Glazed Bacon Donut sliced in half (YUM) with melted mozzarella cheese inside. When it's served, it's hung on a banana hook over a bowl of warm tomato soup.
While the doughnut hangs, the melted cheese inside drips below into the soup and the results are basically orgasmic.
I'm pretty sure this is going to be my next go-to hangover food.
The Flamin' Hot Doughnut Grilled Cheese was a collaboration between an innovative doughnut shop in New York City called The Doughnut Project and a bar called Clinton Hall, where the treat is being sold.
Jeremy Lieberman, Director of Marketing at Clinton Hall, contacted The Doughnut Project with hopes of doing a collaboration with them.
Lieberman told Elite Daily about the idea, saying,
I came across The Doughnut Project while walking around the neighborhood, tried two of their doughnuts (The Everything Doughnut and Beet Doughnut) and knew at that instant that we had to do something with them.
He reached out to Leslie Polizzotto, co-founder of The Doughnut Project.
After meeting up, they realized they both love spicy foods. Through taste-testing and brainstorming new ideas, they created The Flamin' Hot Doughnut Grilled Cheese.
Polizzotto also talked to Elite Daily about the tasty creation. She said they had to alter the recipe a few times to make the doughnut's glaze just right.
She explained,
We started to figure out what flavor profiles we would want the grilled cheese to have. The first test was too sweet, we modified the glaze to make it spicy. When we started to cook it, the spice content disappeared so we had to amp up the habanero side of it.  We had to keep testing it to make sure the balance was right. 
Based off customers' reactions to the treat, it seems like they created the perfect balance of spicy and cheesy.
 Lieberman said,
Not one person has said it wasn't the best thing they've ever tried. 
Suddenly, I'm starving.
If you want to try The Flamin' Hot Doughnut Grilled Cheese, make a trip to Clinton Hall in New York City.
Don't wait, though -- the snack is only available on Friday, Saturday and Sunday for the next month, and only 20 doughnuts are made per day.
The doughnuts are made at The Doughnut Shop and sent to Clinton Hall, where they're turned into grilled cheese sandwiches.
I think I might camp out on Friday night, so I'm first in line to try one of these babies this weekend.