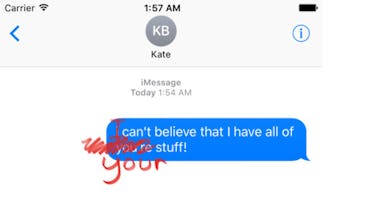 'Grammar Snob' App On iMessage Just Made Your Text Convos Even More Annoying
App Store
When it comes to our cell phones, there seems to be a divide that separates us into two camps. No, I'm not talking about iPhone vs Android.
I'm, of course, talking about Your vs You're* — the grammar neglecters and the grammar snobs.
It's a constant battle between the two, with neither side ceding to the other, but the snobs just got a new weapon in their arsenal, and it might just be enough to end the long-lasting feud.
The aptly named Grammar Snob, available in iPhone's App Store, allows users to tap into their inner copy editor and overlay corrections atop text messages.
The app uses iOS 10's new sticker feature.
Users choose the mistake, sending back a correction in classic red ink.
The pedantic app currently includes several of the more common grammar and punctuation errors.
The developer appears open to adding more stickers per your request.
@lewisdorigo sure! it'll be in the next update :-) — John Haney (@johnhaney) September 15, 2016
Personally, I'm excited, but I'm sure some people couldn't care fewer.
Citations: BuzzFeed