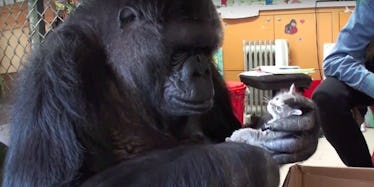 This Gorilla Playing With Her Adopted Kittens Is The Cutest Thing Ever (Video)
Koko, the gorilla who can use sign language, playing with a box of kittens unleashes a mythical amount of cuteness straight onto your computer screen previously thought unattainable.
Be warned: For part of the video, you're going to be secretly gritting your teeth, hoping Koko doesn't accidentally squish or eat one of her two new cats. The rest of the time, you're going to be overtaken by a debilitating case of the "awwwws."
I mean, the friggin' gorilla wears a kitten as a hat at the end of this video! What else could you possibly want?
SERIOUSLY! THERE IS NOTHING BETTER ON THE PLANET THAN A GORILLA WEARING A FELINE YARMULKE.
The video was uploaded in the hope of raising awareness for The Gorilla Foundation, which you should totally donate to in order to ensure there will be more gorillas wearing cats as hats.
Citations: Gorilla delicately hugs and plays with kittens in video that's off the cuteness scale (Metro)