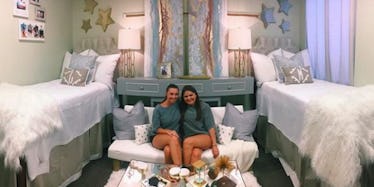 This Gorgeous Dorm Room Will Give You So Much Decor Inspo Going Back To College
Lydia Gratwick/Instagram
Anyone who has lived in a college dorm can agree that they're totally drab. Living in a room that's gray or completely boring can be draining. After all, you're expected to live there for years at a time, so you might as well like where you live, right?
Shaking up the idea of a boring dorm room are 18-year-olds Lydia Gratwick and Maggie Farmer. The teens attend Mississippi State University and have the most beautiful dorm any college campus has seen. Needless to say, Lydia and Maggie's dorm room decor inspo will make you want to go back to college.
Lydia tells Elite Daily the two had actually never met before they were paired as roommates, and that they weren't even supposed to be rooming together in the first place. She says,
My cousin Mary Morgan Grawick goes here and her best friend named Hannah Oliver is really good friends with my roommate, Maggie Farmer. Maggie previously had a roommate, but she chose to go to another school -- and I couldn't room with the girl I preferred due to housing priorities. We met at orientation and immediately hit it off. We get along so well.
The girls are a match made in interior design heaven. See their beautifully decorated dorm room below.
Wow, I wish my adult room looked as serene and stylish as this dorm room! (A sentence I never thought I'd say).
They had many sources of inspiration to create the dorm room of their dreams, including the Room 442 showroom, Wayfair, At Home, and PBTeen — which were all places they purchased from.
Lydia is pursuing a career in psychology, while Maggie is thinking about a career in interior design. Honestly, they really need to team up and create an interior design company -- and I'd like to be their first client.