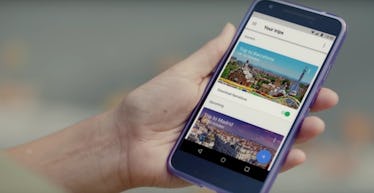 Google's New Trips App Will Be A Lifesaver When Vacationing Without WiFi
Google Trips
Once in a while, a revolutionary app comes along that actually changes the way we live our lives.
Guys: Google Trips is that once in a while app.
It's basically like Google Maps on crack, designed for your vacations. What makes it so special? It works even if you're not connected to WiFi, which anyone who's used to exploring foreign places will know is a godsend.
Say you're planning a trip to Barcelona.
For a start, you can put all your documents together in one easily retrievable place.
Yes, the days of fumbling around the front pocket of your bag for your boarding pass are over. You'll be able to find them in the "Reservations" section of your trip.
The app is broken down into a number sections that include lists of things to do and directions to popular attractions.Google's New Trips App Will Be A Lifesaver When Vacationing Without WiFi
Plan a day trip.
The app gives you loads of recommendations for places to go visit -- food, drinks, must-see sights. Tick off what you want to see and how you want to see it.
Find directions.
So once you've planned where you want to go and what you want to do there, Trips will plot the directions on a map for you. Getting from A to B to C and even D is as easy as following Google Maps.
Do all this before you leave and you'll never get punished for using data abroad again.
YAY FUTURE.