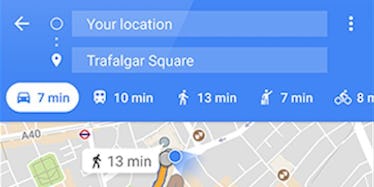 Google Maps Update Just Made It So Much Easier To Find Parking In Crowded Areas
Google
I don't know about you, but when I make plans to go somewhere that I know to be a pretty crowded area, I immediately stress out about where I am going to find parking once I get there. Nothing ruins a downtown shopping day like spending the first hour of it looking for parking. Thankfully, Google is changing how to find parking with Google Maps update.
According to Google, if you're an Android user (sadly, it's not available for iOS), you can now use the navigation app to "find parking" at your destination. The app will populate a list of parking garages near where you're headed, and then once you choose which garage you'd like to park in, its location is automatically added to your trip. Once you wind up at your parking location, Google Maps then provides you with walking directions from the garage to your destination -- no more missing out on that new empanada spot you wanted to try just because you got all turned around looking for parking.
Some of the 25 cities Google Maps' "find parking" function is equipped for include Atlanta, Chicago, Los Angeles, and New York City, so don't let the daunting task of finding a parking spot keep you from pulling the trigger on an end-of-summer road trip.
You may have also noticed that Google Maps added the "parking difficulty" feature to the app earlier this year. This function is available for both Android and iOS (yay!). Once you put your destination into the app, you will notice an icon at the bottom that will inform you if the parking situation is easy, medium, or limited so you know what to expect once you arrive at your destination. Google also announced that they will be adding this capability in the app to 25 cities outside of the U.S. -- sometimes driving on the other side of the road is stressful enough!
So, stop stressing about pesky parking, because your biggest weekend problem should be figuring out how many colors you can afford to buy of that fab new dress.