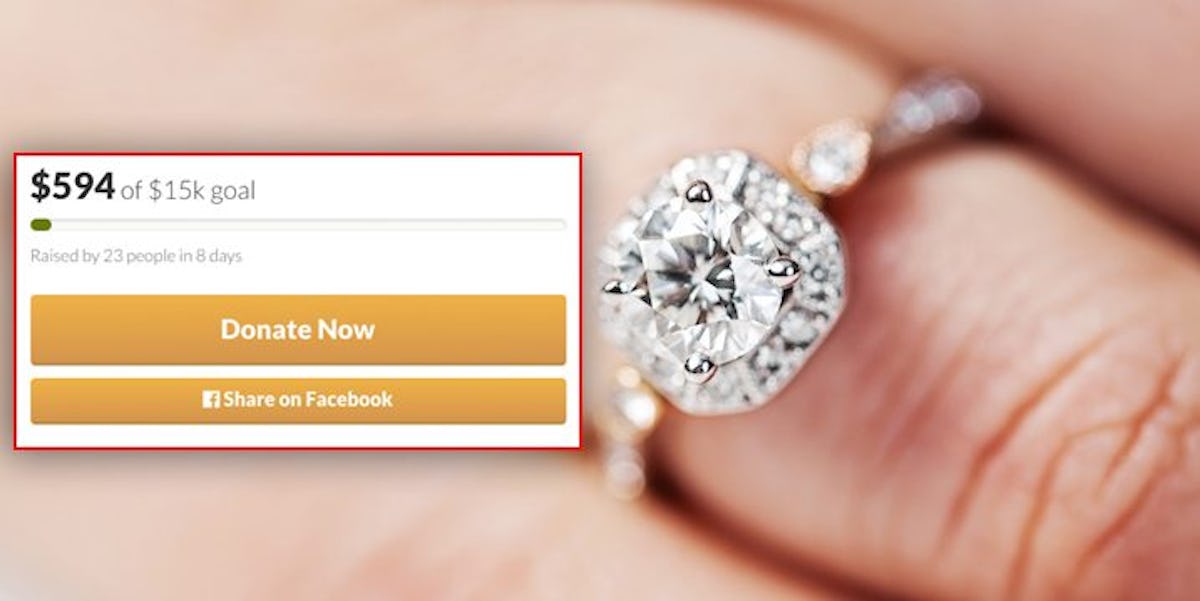 Whole Internet's Destroying Guy Who Started GoFundMe To Buy GF Engagement Ring
Shutterstock/GoFundMe
Let's face it: A glistening new engagement ring costs a lot of money.
Usually, it takes a lot of hard work to muster up the hefty cost of a diamond band, but the outcome is almost always worth it.
While some people are working nonstop and saving their income in preparation for the big purchase, others are taking the easy way out and resorting to crowdsourcing instead.
In fact, a helpless man named William Oliver started a GoFundMe page to raise money for his engagement ring, and Twitter is livid.
Oliver, hailing from Atlanta, Georgia, created the GoFundMe last week and is currently asking friends, family and strangers to help him raise a whopping $15,000 for his girlfriend, Alexandra.
Ballsy move, dude. Ballsy. Move.
In his GoFundMe's description, Oliver asked potential donators to give him a "little" money so his campaign would trend, and said he "became a devout believer in this method of raising money for things and people you love."
An excerpt from his GoFundMe description reads,
I've decided to utilize GoFundMe to let everybody who loves us show us. Sometimes we can't quite afford expensive things by ourselves. A lot of people lean on credit card companies and banks (that overcharge them) so that they appear to do nice things for people they love by themselves. My approach is a little different. We have friends, family and colleagues that don't mind passing up a drink or a sandwich to help out. Anything helps. All proceeds will go to the purchase of a beautiful engagement ring one that WE ALL can be proud of. Call me crazy but Love is Free Not Engagement Rings and Weddings.
So, basically, he wants everyone else to pay for his engagement ring so we can all be "proud" of it.
Unsurprisingly, Twitter isn't having it.
"Something is seriously wrong."
Some girlfriends would be embarrassed by the fundraiser.
"I'll be damned."
Yes, you did.
"Not my future husband."
Just don't do it.
People are PISSED.
#NotInAMillionYears
Nope. Nope. Nope.
"How about no."
"Really?!"
He's right, $15,000 is a little steep.
Judging from the fact William has only raised $594 of his $15,000, something tells me he won't be buying an engagement ring anytime soon.
How about finding a job and working for the ring? That might help.
Citations: Engagement Ring For My Girlfriend (GoFundMe), Internet furious at guy who tries to crowdfund $15K for an engagement ring. (Some E Cards)