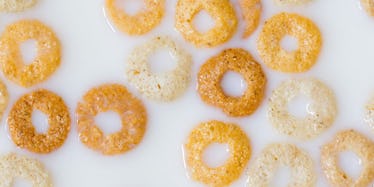 Gluten-Free Pumpkin Spice Cheerios Are A Thing, And We Want To Try Them ASAP
If being a basic b*tch means peeing my pants at the news of gluten-free, pumpkin spice Cheerios, then call me Queen Basic B.
Whether you've also come out of the closet as a basic or not, anyone can rejoice at the news that General Mills actually plans to launch pumpkin spice Cheerios that just so happen to be sans gluten. According to Metro, the cereal giant made the announcement this week and plans to roll out the new flavor this fall for the UK and very soon for the US. https://instagram.com/p/BEeZwlRwiXS/embed/
Apparently, General Mills is appealing to PSL fans in an effort to boost flagging sales. It may be no knock on Cheerios, though, considering Millennials seem to be ditching cereal altogether.
Whatever they're doing, let's hope it works, because I doubt anyone wants to see Cheerios disappear from store shelves, let alone boxes of the pumpkin spice variety.
Citations: Basics, rejoice: Gluten-free pumpkin spice Cheerios are now a thing (Metro)