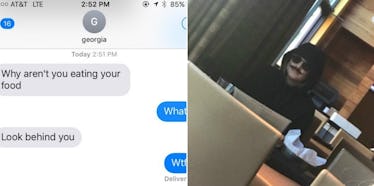 Girl Who Went Undercover To Make Sure BFF's Date Went Well Defines Friend Goals
Twitter
Dating can be pretty damn nerve-racking, but having your BFF tag along for the ride can make the excursion a little bit easier.
I mean, let's face it: We've all had those nights when our only saving grace during a date was running to the bathroom and calling our friends for advice on how to GTFO.
That's what friends are for, though.
However, Twitter found a special best friend who went above and beyond all expectations to make sure her pal's date went well -- and everyone wants to be her new BFF.
Presleigh Dawsy posted pictures of her best friend, Georgia, going undercover during her date to ensure everything went smoothly.
The heroic BFF watched from afar wearing sunglasses, a fake mustache and a black, hooded sweater.
She lurked from a booth and spied intently as Presleigh sat with a potential new boo.
BFF goals. (Not creepy at all.)
Apparently, Presleigh had no idea Georgia followed her to the restaurant. The only lead she gave her was a text that said,
Why aren't you eating your food?
Confused AF, Presleigh responded with "what," and her clever BFF demanded she look behind her.
"Wtf"
Alas, there she was.
Georgia looked creepy AF, but the fact she dressed up and followed her best friend to make sure her first date went well pretty much defines "friendship."
Presleigh thought so, too, and posted pictures of her BFF to Twitter along with the hilarious text messages she received on the date.
Needless to say, Twitter got a kick out of it and hopes to find a best friend like Georgia someday.
"I WANT TO BE FRIENDS WITH HER SO MUCH."
People are loving it.
"My kind of friend."
If you're going on a date and hope to have a friendly backup, definitely ask your BFF to pull a "Georgia" so she can creepily watch you from afar and give you advice about what to do during your meal.
Just cross your fingers your date doesn't notice the girl with a fake mustache sitting awkwardly behind your table.