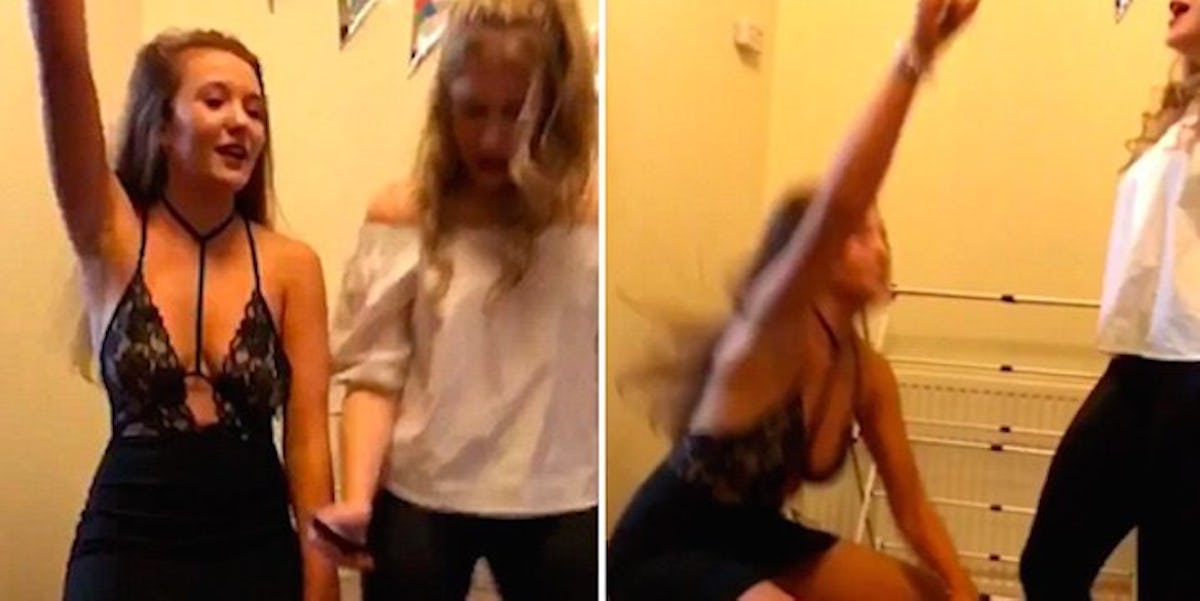 Girl Who Dropped It Low And Got Pole Up Butt Is All Of Us Drunk At The Club
Pulling off a sexy dance move can be pretty hard.
Let's be real, there's a fine line that exists between looking effortlessly irresistible and looking like a complete idiot.
Don't believe me? Just ask Bonnie Lee Brown.
On Saturday night, Bonnie Lee was gearing up for a girls night out when she decided to record a video that showed her busting out some dance moves during the pre-game.
Unfortunately, Bonnie Lee's sexy dance didn't really go according to plan when she dropped it low and landed right on a metal pole.
Yep, this drunk girl dropping it low and getting a pole up her butt is basically all of us drunk at the club.
The video starts off with Bonnie Lee dancing to a mellow love song with her friend.
As she attempts to pull off the perfect "slut-drop," you can see her sit directly on top of a pointy, metal pole that's sticking out of a shoe rack on the floor.
Then, she immediately jumps back up and grabs her butt as she yells in agony.
If the embarrassment of landing on a pole while trying to look sexy isn't bad enough, Bonnie Lee also endured a pretty painful injury.
Instead of hitting the town with friends, she had to hit up a nearby hospital and get three stitches in her tush, plus a tetanus shot to prevent any infections from the metal pole.
Bonnie Lee later decided to share her painfully hilarious video with the world by uploading it onto Twitter.
Since then Bonnie Lee's post has gone viral, racking up over 33,000 retweets and a long list of comments.
As you can imagine, a lot of people are laughing their butts off at poor Bonnie Lee's expense.
Other Twitter users decided to add insult to injury by poking fun at Bonnie Lee's unfortunate butt wound.
Bonnie Lee also cleared a few things up in the comments, clarifying that the pole went in her butt as opposed to up her butt, like the video led many viewers to believe.
Plus, she confirmed the pole ripped a hole in her adorable dress, as well as her butt cheek.
In case you're wondering, Bonnie Lee also said she didn't really know why the hell she chose to slut drop to that particular song, either.
If you ask me, Bonnie Lee serves as living proof that you should always look down before you drop it low -- you never know where pointy objects could be lurking.
Citations: Shocking video shows the eye-watering moment a teenager's 'slut drop' dance move causes serious injury to her backside after she lands on a metal pole (Daily Mail)