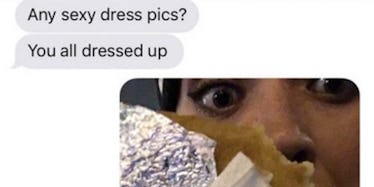 Hero Girl Who's Ghosted After Replying To Sext Request With Food Is All Of Us
Reddit
Sometimes I wonder why I'm still single, but other times I remember all of the embarrassing downfalls I possess that could possibly make me seem undatable to the average dude.
One of my downfalls is that I SUCK at sexting.
Maybe it's my lack of self-esteem, or simply the fact I'd rather not have nudes floating aimlessly around the elusive abyss of iCloud.
Either way, I never know what to say or what to do when a guy asks for a sexy pic.
Apparently, I'm not the only one who feels this way.
A girl on Reddit recently shared a screenshot where a guy sexted her for a "sexy dress pic," and her response is all too familiar.
Instead of replying with an explicit photo, she sent him a picture of herself excitedly indulging in a knish, which is obviously just as sexual.
After sending the picture, she broke the double-text rule and said,
I have one with a knish. Nope I don't this is a new phone hahah. That's about it lol not impressed?
Unfortunately, he wasn't impressed and ghosted her ASAP.
First of all, the fact this dude didn't respond AT ALL means he doesn't know how to take a joke, hence, he has no sense of humor, hence (again) he might be an asshole.
Does she really want to date a guy like that?! NAH.
Look, I understand he was looking for a little more skin and less dough, but maybe if he took the joke and made her feel a little more comfortable, she would've sent one. In my opinion, the guy blew it — not her.
Regardless, anyone with a love for baked goods would understand a knish should turn you on more than any sexy picture ever could.
I suppose the lesson here is boys don't like pastries as much as we think they do, so if you're ghosted after replying to a sext with baked goods, know you're not alone.
Citations: got his number but than this happened #whyimsingle (Reddit)