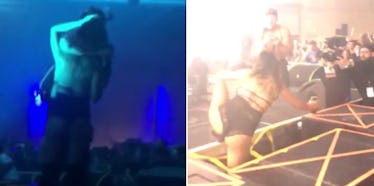 Girl Hilariously Falls Off Stage After BF Proposes At Crowded Music Festival
Youtube
Endyugi Soedarsono had joined her boyfriend, Jeff Jackson, on stage at a music festival in Dallas earlier this month when her man decided to pop the question in front of the entire festival audience.
But before she could say "yes," she literally fell INTO the stage.
Yes, the heroine of this story, overcome with joy and excitement, literally fell off the stage into what I can only assume is a pit full of foam blocks (???) when her boyfriend popped the question, BPR reports.
A person named Colton Carlyle was there to record the iconic moment and posted it to Facebook where it quickly received over 330,000 views.
Sometimes I think about what my dream proposal would look like and ask myself important things like, "What will I be wearing?" "Who will be there?" "What if I do something embarrassing?" "Will anyone be there to record it?"
For this one lucky lady, her answers to all of these hypothetical questions looked like this:
Outfit: Fishnet stocking and lace go-go booty shorts. Audience: hundreds of disco rave dancers. Will she do something embarrassing? Yup. Sure will. And yes, someone will be there to record it and ensure it is archived on the internet for all of time.
We know. Dreamy.
In the video, Jackson took the mic and romantically says,
[I] love you with all my heart... and I'mma take this moment... Endy! Will you marry me!!!
BOOM. GIRL FALLS OFF STAGE. Hilarity ensues.
My only complaint is how abruptly the video ends before giving a glance at Soedarsono on the floor (or, hopefully, those foam blocks).
The video supposedly cuts out so quickly due to Carlyle rushing to Soedarsono's aid after she hits the ground.
However, once she is safely returned to stage, he begins recording again, catching the happy ending and confirming she is not truly hurt.
THANK GOD.
Some random person (maybe the DJ or, like, the MC? That's a thing at festivals, right?) or maybe Jackson himself encourages the crowd to "make some noise" as the now-bride-to-be safely returns to the stage to accept the ring.
Sort of. It kind of looks like Jackson also almost blows it and drops the ring on stage before it actually makes it onto her hand.
BUT ALL IS FAIR IN LOVE AND SHIRTLESS PROPOSALS!
I can only hope Carlyle is also there to record the (techno theme and black-light lit, presumably) ceremony and reception.