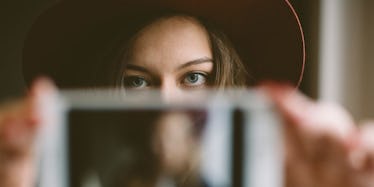 New Phone Case Transforms Into A Vibrator, And It's Absolutely Genius (Photo)
Freshman year of high school I had a friend who, during lunch, would sit on her phone as it vibrated.
I'm not sure whether or not she realized she was essentially pleasuring herself while the rest of us casually ate subs, but if you asked her about it today, odds are she'd claim she never did it.
Trust me, she totally did it.
Now, a million (rough estimate) years later, she can finally enjoy the real thing.
A new phone case by IZIVIBE shaped like a dildo works in sync with an app and the vibration feature on a user's phone to function as a go-anywhere sex toy.
It's official! Our website https://t.co/mlC79ilsCc is online... Check it out to discover #izivibe pic.twitter.com/M0ZBXLrULm — IZIVIBE (@izivibe) November 12, 2015
Gone are the days of sitting atop your flip phone in the cafeteria and waiting for someone to call while your friends all ask what the hell you're doing, girl from freshman lunch.
Users can adjust the intensity of the vibrations from the app and, for those in long-distance situations, let their partners control the vibrations remotely.
Look out, girl from freshman lunch, this is about to be your best Hanukkah ever.
Oh, what's that? It's not available until June 2016?
Just kidding, girl from freshman lunch. Get back on your Nokia.
Citations: Finally, a Case That Turns Your Phone Into a Vibrator (Cosmopolitan)