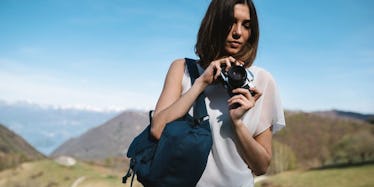 Genius Home-Sharing App Lets Women Traveling Alone Book Safe Rooms To Sleep In
Wanderlust and Millennials go together like Kim K and breaking the internet. Whether you're headed to Coachella or jet-setting across the globe, you're going to need a place to stay when you get there. Sometimes that oceanside cottage listing doesn't mention that the creepy owner living in the guest house just steps from where you'll be sleeping. Unfortunately, female travelers can sometimes find themselves in not-so-safe situations -- especially if they're going solo. Overnight app lets women traveling alone book their digs in a more secure manner before they head out of town.
According to Overnight's website, the idea is that certain networks of people will offer their homes up à la Airbnb. Then, travelers are able to rest easy knowing that someone from a trusted group is on the other side of the transaction. Girls Love Travel, a closed Facebook group for women that ensures safe travel with the support of other travel-loving women, is the first group that Overnight is partnering with to provide more secure housing rentals. According to their Facebook page, the group was founded in 2015 by Hayley Woods. In the mission statement, she describes the group as "a traveling sisterhood." The last time I encountered a traveling sisterhood, it involved magical pants -- so yeah, sign me up!
Checking off your bucket-list one location at a time with the support of your fellow GLT ladies isn't the only perk of joining the group. According to Refinery 29, you will also be getting great deals sometimes as much as 80 percent off the regular rate of an Overnight room when you go to book as member of the group. The website also has its calendar synching with Airbnb to avoid overbooking if a home is up on both sites.
So, if you're still trying to squeeze in that summer vacation or if you're already planning a fall getaway, join your fellow lady travelers and get your R&R on knowing that your girls have your back.