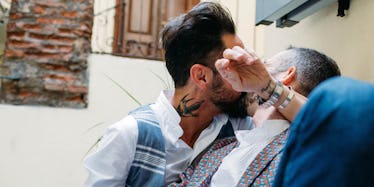 This Gay Couple Received The Most Horrible RSVP Letter To Their Wedding
Just when you thought maybe people were finally coming around to accepting the LGBT community, one truly awful RSVP letter arrived to prove people are still the worst.
When Canton, Ohio, couple Keith Alan and Chad Michael sent out wedding invitations to their family and friends, they expected not everyone would be able to attend.
One RSVP, however, came back with a shockingly homophobic message from an anonymous coward.
The beginning of the letter reads,
Just wanted to let you both know, you have sent an invitation to the wrong people. You thought we supported you as a couple, well boys you were so wrong. Your invitations were forwarded to an anti-gay group in Canton Akron area, they will be attending your wedding. Protesters will be there ... This day is going to be ruined for you.
This leaves me wondering, what the actual f*ck is wrong with people? Luckily, when Alan and Michael posted the RVSP on Twitter, they soon received many empathetic responses from several normal, decent people showing their support.
According to Cosmopolitan, the couple is more determined than ever to throw the wedding of their dreams. Michael told Cleveland 19 News,
This letter we received yesterday is more of a reason to move forward with it. Love will win in the end, that's what it comes down to.
More than anything, this outburst of hate proves there's still work to be done to secure LGBT rights.
Michael is right that love will win in the end, no matter how many haters try to get in the way. We can all start by wishing them well and hoping they have the most beautiful wedding anyone could imagine.
Celebrate love and kindness by learning how you can support the LGBT community in your neighborhood.
Citations: This Was Not the RSVP This Couple Expected to Their Wedding (Cosmopolitan)