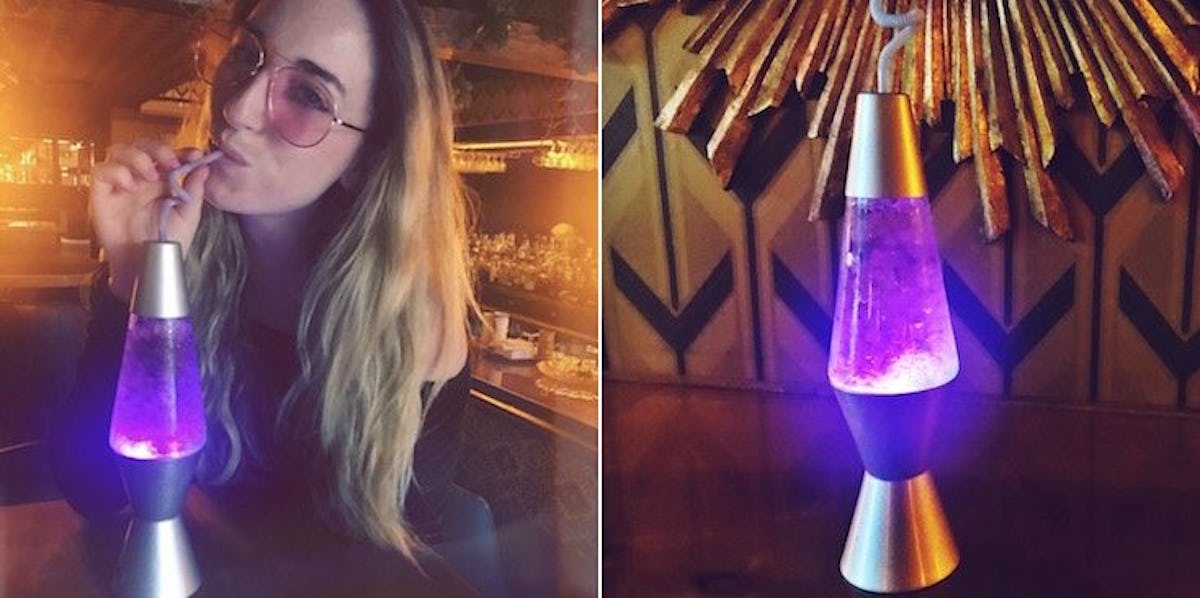 These "Funkadelic" Lava Lamp Cocktails Are The Best Throwbacks For Your Insta
Amanda Fama
If you know anything about me, you probably know that I'm obsessed with anything mildly psychedelic or retro, and I always have been. Trust me, my childhood bedroom was decked out with Lava Lamps, door beads, a Magical Mystery Tour poster, and a fuzzy shag rug... and not much has changed. Recently, I came across a drink that is basically my soulmate in alcohol form, and I felt the need to share it with you guys. Behold, the glowing "Funkadelic" Lava Lamp cocktail at The Honeywell in NYC.
Yes, this cocktail is served in an actual Lava Lamp, and yes, it's freakin' delicious. However, before we talk more about the drink, let me describe the setting of the bar so you get the entire #throwback feeling. (Believe me, you need to be in the right mindset in order to fully imagine the allure of sipping booze from a Lava Lamp.)
The Harlem-based bar is '70s themed, which puts you in the perfect mood for a cocktail fit for Penny Lane. It's also hidden from plain view of city dwellers because it's located in a cozy basement that you need to walk down a flight of stairs to get to.
Once I walked down the stairs and sat at the bar, I was so ready for my Funkadelic.
As I mentioned before, the Funkadelic is served in a real Lava Lamp that was cut and sanded down for drinking pleasure. The lightbulb that usually illuminates the gooey "lava" is left in the lamp glass, and it's still used to light up the booze. To finish off the Lava Lamp look, the bartender puts a squiggly straw on top, and voila! You have yourself a retro cocktail served in a Lava Lamp.
I'm sure you're asking, "What the heck is this made of?" Well, I'll tell you! The Funkadelic consists of pisco (brandy), Velvet Falernum (a spicy-sweet liqueur), Italian dry vermouth, citric acid, tonic, and frozen Chianti. It's a sweet and delicious -- a gorgeous combination that you need to try.
Plus, it's perfect for your Instagram needs. If you post pictures of your favorite boozy treats on the reg (who doesn't?), then why not post a picture of this badass Lava Lamp cocktail for #ThrowbackThursday?
Whether or not you were able to enjoy the OG Lava Lamp days of the 1970s, it's a perfect cocktail for anyone obsessed with retro everything (like me).
If you're feeling compelled to give the Funkadelic a try, head to The Honeywell in New York City. It has a ton of other cool beverages, so be sure to try (and post) more than one while you're there!