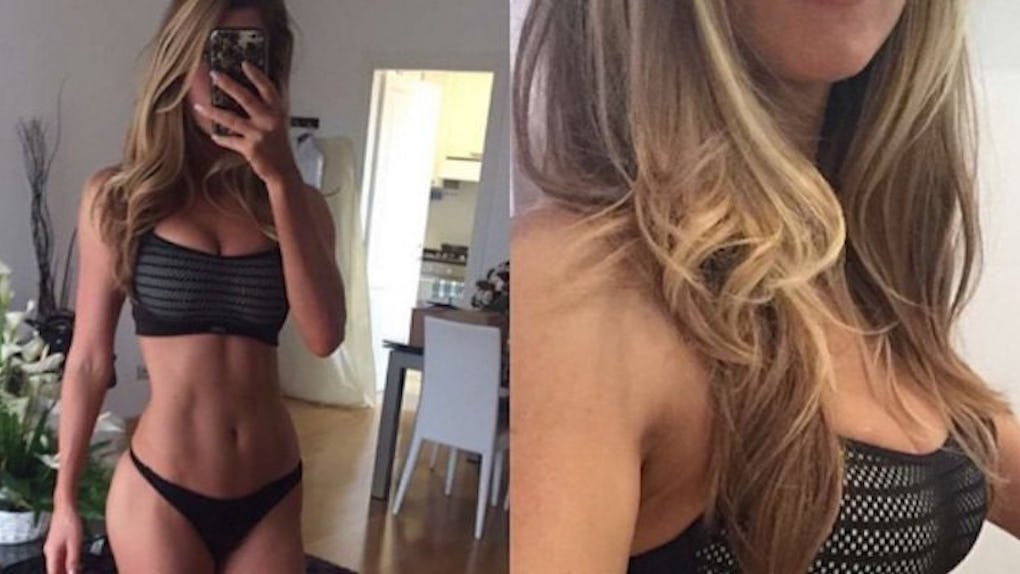 Instagram
Fitness Model Posts Back-To-Back Photos To Prove Point About Stomach 'Rolls'
Anna Victoria is a fitness blogger who's using her Instagram to make a point about body positivity.
I mean, really, all she is doing is demonstrating what us less attractive humans have known for years: It's all about angles and lighting.
Here's what happened. Anna Victoria recently got married. Before she put on her wedding dress, she snapped a selfie of her bangin' bod. And let me tell you, she looked damn good.
Then she snapped another selfie two minutes later, sitting down, and, in my opinion, she also looked damn good in that photo. I mean, seriously, she's a beautiful woman. She's gonna look beautiful in her pictures.
But also in that second picture she posted, you can see some rolls in her stomach. And as everyone knows, the natural human body is disgusting, especially on women, so people are freaking out over that.
In the caption of the photo, Anna wrote,
You girls requested for me to share this after posting on snap last week. Picture on the left was taken one day before the wedding and the picture on the right was taken... 2 minutes after! Someone recently said to me that we all have our good angles and we all have our bad angles, so why do we let our bad angles carry so much more weight than our good angles? If you focus on how bad you look in the bad angles, at least focus on how good you look in the good ones too!! Tag a friend if you found this helpful #fbggirls #loveyourself
You hear that ladies? If you can just get the angle right, you too can conform to the unrealistic standards of the female body society has forced upon us!
If you're wondering how Anna got that fit, you can check out her website, where she creates training guides and videos.
Many people on Anna's Instagram are saying she helped them feel better about their own bodies, which is obviously a good thing.
Here's to hoping some day we won't need gorgeous people to remind us our bodies are not "good" or "bad," no matter the angle.
Citations: Next 'Not every angle is your best angle and that's OK': Fitness fanatic's before and after pictures of her wedding body cause internet frenzy (Daily Mail)