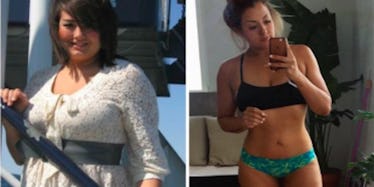 Fitness Blogger Posts Side-By-Side Pic To Show The Downsides Of Losing Weight
Working toward your dream body is a journey that often has many bumps along the way.
Shedding a few pounds can help you feel healthier and more confident about your appearance.
However, for some people, weight loss creates a whole new set of problems.
Don't believe me? Just ask Chinae Alexander, the fitness blogger behind the Instagram account, GetFitBrooklyn.
If you scroll through Alexander's Instagram feed, you'll normally find a myriad of healthy food porn pics, gym selfies and inspiring #TBT photos that show Alexander weighing in at 224 pounds.
However, Alexander recently decided to open up about the less glamorous side of her weight loss journey by posting side-by-side pictures to show the downside of losing weight.
Alexander revealed she was most confident at her largest size, and became increasingly insecure with every pound she shed.
Alexander claims when she was a size 18 she was "the most self-confident I ever was… I used to look in the mirror and think, 'Damn girl, you're so fly right now'."
Then she made a weight loss bet with a friend, and embarked on a quest to become fit.
After completely changing her lifestyle, Alexander lost a ton of weight and many people started complimenting her new and improved appearance.
But rather than making Alexander feel good, the compliments actually seemed to hurt her self-esteem.
According to Alexander,
Others' words began to fuel my confidence. They became a measuring stick for my worthiness. I lived for the moments when I would walk into a group of people I hadn't seen in a while – and feel the admiration swell around me.
The fitness blogger developed an incessant appetite for compliments and eventually realized she was "stuck in a cycle of cravings for affirmation, admiration and progress."
Alexander explained her diminishing confidence, stating, "I knew aesthetically I looked better, but my heart just didn't meet me there. I'd sold my inner beauty for thinner thighs and increased wardrobe options."
So she decided to follow her heart by obsessing less over her weight and focusing more on the people she cared about.
According to Alexander, "Here I am. Not my leanest or most athletic – but so damn joyful."
If you ask me, we can all learn a valuable lesson about loving ourselves from this inspiring woman.
Citations: This Instagram fitness blogger is illustrating the downside to losing weight (Metro)