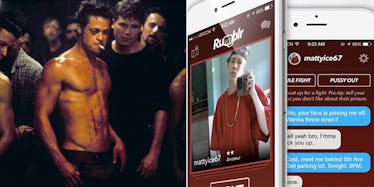 There's Now A Tinder-Like App That Lets People Search For Fights
Are you stressed out at work, need to let off some steam or just really want to punch a motherf*cker in the mouth right now?
Well, then perfect, because Rumblr is the new fighting app for you!
According to the official site, the revolutionary new app will be released today at 5 pm EST and will allow users to organize street fights with people in their local areas, or even locate where a fight is going down and just attend and talk some sh*t.
While we don't know much about the interface, it appears you can start a conversation with a stranger, see if you want to throw down then either choose to "schedule fight" or "pussy out."
If you were wondering if this is actually real, I'm not even completely sure, but I'm at least downloading it to see what's Gucci.
While we have to wait and see on that, we can already start to get an idea of some of the type of dudes who will be on it.
With Twitter handles like Pat Boxer, you better get ready for some real competition.
Can't wait to check this out... #rumblr#rumblrapp — Pat Boxer (@PatBoxer) November 9, 2015
But dudes are already out here trying to start fights and the app hasn't even launched yet!
@markeroon so you got #Rumblr ?? Cause I'm looking for a throw down. — J. (@shredlife156) November 9, 2015
Like any fight club, there are rules to this sh*t.
First rule is you dont talk about rumblr #whoops#LikeTinderForFighting#rumblrhttps://t.co/uMCzElsAtL — Jake Shuter-Ross (@jakeshuterross) November 9, 2015
But maybe Rumblr will create new rules to this sh*t.
@rumblrapp who's gonna catch the hands fam — Jeremy (@CarnageCrowLey) November 9, 2015
It's kind of sad, but it might be true.
#Rumblr#RUMBLRAPP is a true sign of the times. — Jaquan Jose (@starsearcher77) November 9, 2015
Because motherf*ckers are really going online to look for fights now.
.@rumblrapp If you don't hire me for PR support, imma smash yo' f****** face in, bro. — Rob Jessel (@robjessel) November 9, 2015
Citations: Rumblr is like a dating app, but for fistfights (Venture Beat)