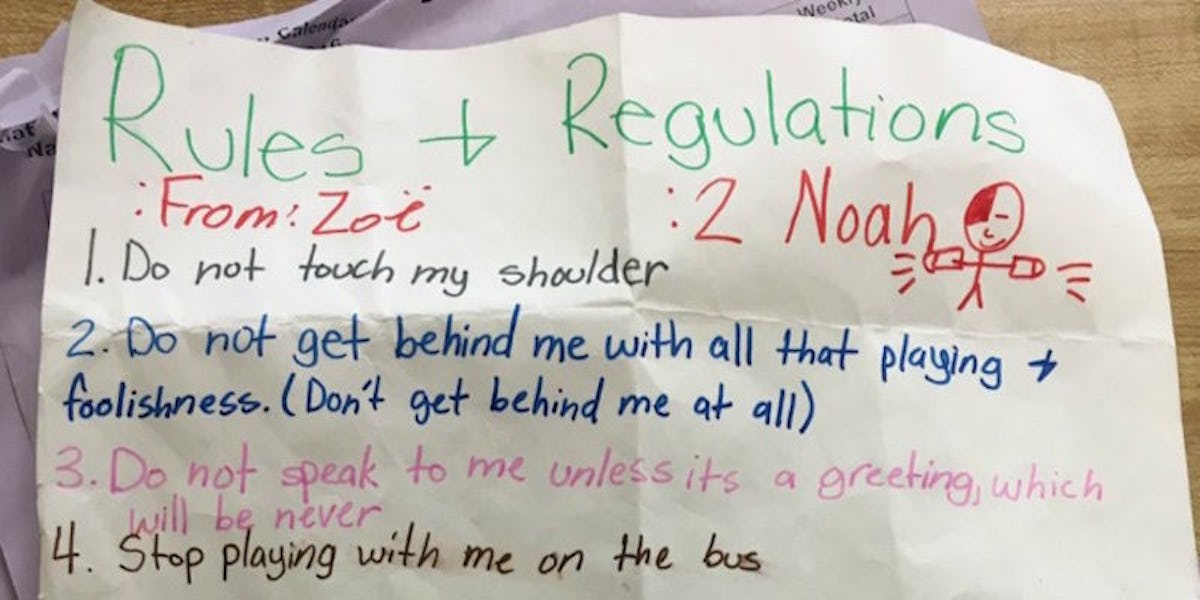 This Girl's Strict List Of Rules For Boy Who Has A Crush On Her Is Too Sassy
It's no secret that love can be a real motherfucker.
If there's one thing I've learned from dating over the years, it's that the person who cares the least in a relationship always holds the most power.
Don't believe me? Just look at this hilarious note a fifth-grade teacher found one of her students writing during class:
Apparently, a little girl named Zoe wrote the note for Noah, a boy who has a crush on her.
In the note, Zoe gets brutally honest with Noah, telling this boy exactly how she feels about the fact that he likes her (as a girlfriend).
Clearly, Zoe isn't having any of it.
If Zoe's cringe-worthy confession isn't enough to make you die of laughter, you'll be glad to know Zoe also flexed her power in the relationship by giving this poor kid a list of hysterical demands.
And if Noah didn't abide by her rules, she even threatened to call her dad, her mom, her fake mom and a janitor she knows.
I'm pretty sure Noah had no idea what he was getting himself into when he decided to fall for this tough catch.
If she's already this demanding before they're even Facebook official, this little boy should probably do himself a favor and run for the hills.
Citations: 5th Grade Girl Wrote A Hilarious Warning Note To A Boy Who Had A Crush On Her (Distractify)