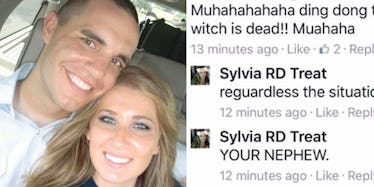 Guy Pens Post After Brother's Alleged Killer Dies In Jail: 'The Witch Is Dead'
Facebook/Support Amber Hilberling
She was his sister-in-law, but that doesn't appear to matter anymore: Zach Hilberling celebrated all the same.
Zach's apparent reaction came after reports emerged that Amber Hilberling was dead. Amber was serving a 25-year sentence in an Oklahoma jail for pushing husband Josh Hilberling from a Tulsa high-rise. However, she was found unresponsive in her prison cell on Monday.
The key word here, though, is "apparent."
This is because – while Zach's Facebook page (as of Tuesday afternoon) shows no apparent sign of reveling in Amber's death – a support page for the 25-year-old shared a post on Monday night that contained a few screenshots of Zach seemingly commenting on the death.
In one of the screenshots, Zach writes, "ding dong the witch is dead."
The "support Amber Hilberling" page posted this message in response:
I am a very big believer that the devil works through people and I believe that he is definitely working through Josh Hilberling's brother right now. These are the mean, evil, hateful things that he is saying about amber. A child just lost his mother. A child who will read this evil man's words one day about his mother.
Amber was found guilty of second-degree murder of Joshua Hilberling three years ago. She would later claim, though, that she acted in self-defense. In an interview with "Dr. Phil," Amber said,
He reached out and grabbed me. And I was pregnant. And he didn't care. I pushed him off me. The window wasn't supposed to happen.
Still, Zach's reaction appears to not have been altered by Amber's version of events. In one screenshot, Zach is purported to have said,
Okay so it has yet to be confirmed but I'm following the clues here... word is AMBER hung herself earlier today in prison and is dead. Nothing will bring my brother back but this brings some closure.
Citations: Daily Mail